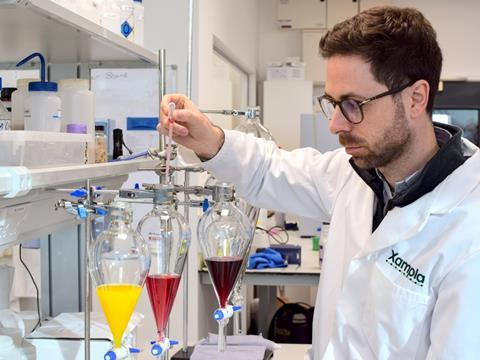 Britvic will collaborate with Xampla, the technology company behind the development of pea protein packaging, on an innovation aimed at using microscopic capsules to protect vitamins in fortified drinks in clear plastic bottles.
Xampla is a spin-off company of the University of Cambridge and was awarded £1 million in funding from the UK Government's innovation agency, Innovate UK, to scale up its technology and material processing.
According to Xampla, its plant protein material was developed after 15 years of research. The latest iteration uses pea protein to make microscopic capsules that protect vitamins within liquid. This can stop vitamins, particularly vitamin D, from being broken down by UV rays.
Xampla's technology could allow Britvic to bottle its fortified drinks in clear plastic bottles, which its own research suggests people are 40% more likely to recycle compared to coloured bottles. However, coloured plastic bottles typically offer better protection from UV rays than clear plastic bottles — an issue Xampla is aiming to address with its pea protein-based capsules.
Last year, Britvic brands including Fruit Shoot and 7UP made the shift to clear bottles in a bid to drive up recycling rates. Fruit Shoot has been fortified with multivitamins since 2016, while other Britvic brands such as Robinsons Fruit & Barely have recently started to include vitamins B, C, and D.
Vitamins C and D can help to support the immune system and the growth of strong bones, while B vitamins apparently contribute to energy release.
Simon Hombersley, CEO of Xampla, comments: "We are delighted to be partnering with Britvic to deliver innovation that will revolutionise the drinks industry and it is extremely exciting to see what our material can do at scale.
"Britvic has a proud history of fortifying its products with vitamins and seeking sustainability in its packaging. Our partnership is about helping to do both even more effectively."
Sarah Webster, director of sustainable business at Britvic, adds: "By agreeing this £1m partnership with each other, we have shown the power of collaboration between established players and cutting-edge innovators to deliver Healthier People and Healthier Planet.
"Xampla technology has the makings of a 'win-win', enabling delivery of greater nutritional value in the drinks people love, while ensuring that more products can come to market in clear, recyclable bottles."
Last year, an edible stock cube packaged in pea protein sheets developed by Xampla was sold by the recipe delivery company Gousto as part of its Indian Spiced Carrot & Lentil Soup recipe. Xampla says that the pea protein sheets have similar properties to plastic, thus preserving the food's flavour and shelf life.
The company also recently announced a partnership with Croda International to develop microplastic-free, biodegradable seed coatings for the agricultural sector, which are used to protect seeds from pests and disease while helping to increase germination. The £640,000 project trial is likely to take place across the space of a year, with the solution intended to be compliant with the microplastics ban proposed by the European Chemicals Agency for 2027.
Meanwhile, Britvic has pledged for all of its plastic bottles in Great Britain to be made from 100% recycled PET by the end of 2022. Britvic brands Robinsons, Lipton Ice Tea, and drench made the transition last year using recycled plastic from a North Yorkshire-based rPET manufacturing facility built by Esterform Packaging Limited.