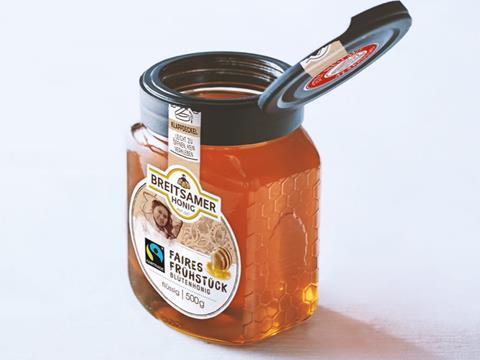 Breitsamer Honig has enhanced the screw cap of its honey jars with a flip-top closure in a bid to prevent the lid from getting stuck between uses by reducing its contact with the honey itself.
Designed to be openable with one hand, the hinged lid has an integrated scraper edge and allows consumers to hang up their spoons and let the honey drip – ensuring that wastage is minimised as much as possible. If any honey enters the flip-top closure, the lid is still thought to be easily opened and closed.
It is also possible to unscrew the closure from the jar itself, allowing consumers to decide for themselves how it should be opened. The new lid is set to be applied to Breitsamer's classic range, its Mediterranean summer and 'faires Frühstück' ranges, and its 'Frühlingssummen' honey.
While the glass and cap are recyclable separately, the company also encourages consumers to wash and reuse them to store other foods or small objects.
Consumer Convenience Technologies previously offered an aluminium lug version of its EEASY Lid – reportedly reducing the torque needed to twist it open by 40% compared to standard continuous thread lids, resulting in a more accessible design.
Furthermore, Gabriel-Chemie Group's newest line of nanomaterial tubes features flip-top closures said to be partially NIR detectable, which is thought to enhance their recyclability.