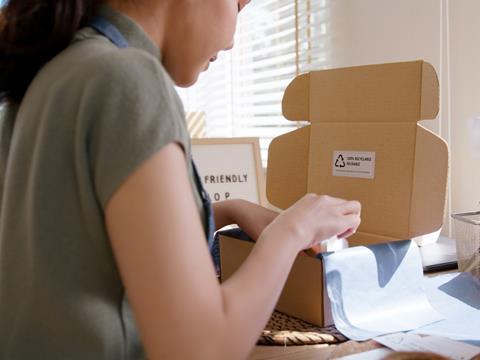 Avery Dennison has selected five start-ups under the second cohort of its AD Stretch Accelerator Program, which aims to collaboratively overcome challenges to connected packaging, materials innovation, and sustainability in the labels and packaging industry.
Run in partnership with Highline Beta, the programme is said to have received over 300 applications from global startups. This second cohort intends to encourage collaboration, planning, execution, and analysis over a six-month period by running pilots in North America and EMENA.
The successful start-ups include BeFC, which utilises enzymes in paper biofuel cells to convert glucose and oxygen into electricity. This is expected to serve as a sustainable alternative to traditional miniature batteries.
Its collaboration with Avery Dennison expects to bring forth the 'next generation' of logistics, medical devices, health wearables, and environmental devices with its printable and flexible bio-batteries.
Moree's Reusable Packaging as a Service system offers returnable, reusable pouches for food companies and digital rewards for customers – tracking inventory, orders, and environmental savings through its SaaS platform. Avery Dennison is set to work alongside the company in pursuit of bringing brands to zero waste and encouraging sustainable systems.
Peafowl Plasmonics is set to help Avery Dennison work towards sustainable energy with its expertise in plasmonics, nanomaterials, and solar capture. Its light-harvesting cell can apparently power any conductive surface, including transparent ones, for applications in electronic devices.
Puro Renewables, meanwhile, makes use of carbon-negative, biorenewable biowaste materials in an effort to help manufacturers and brands cut their carbon footprints by reducing their reliance on fossil fuels. It will work with Avery Dennison in a bid to eliminate the long-term impact of plastic waste.
Additionally, Stemly automates forecasting and seeks to optimise supply chain, finance, and sustainability decisions. Its work with Avery Dennison, diverse dataset management, and an AI-powered platform is looking towards fast implementation and accurate forecasts, which would enable executives to make interconnected decisions within their companies.
It is hoped that all five start-ups will facilitate development in the label and packaging industry. Other criteria includes experience in bringing products to market, generating sales, and ability to partner with a Fortune 500 industry leader.
"Avery Dennison aims to foster a startup mentality of agility and innovation throughout the organization by collaborating with startups, accelerators and investors," said Steve Flannery, senior vice president and general manager Avery Dennison Materials Group EMENA. "Our partnering will positively impact our industry and the world."
"The five startups will bring unique approaches and solutions to our challenges and fresh perspectives to our industry," added Jeroen Diderich, senior vice president and general manager Avery Dennison Materials Group North America. "Together, we will drive innovation and sustainability globally."
AD Stretch's first cohort took place in Latin America and Asia Pacific last year, with Avery Dennison announcing the expansion of the programme in November.
Under Circular Valley's Circular Economy Accelerator programme, Lixo and Rhinopaq are hoped to result in an AI-based solution for sorting recyclable waste and reusable e-commerce packages.
The European Innovation Council's EIC Accelerator programme also awarded Miwa Technologies €5 million to further implement smart reusable packaging systems in European supermarkets.
If you liked this article, you might also enjoy:
McDonald's Director of Sustainability in Europe on the company's approach to packaging sustainability
McKinsey on whether or not on-pack sustainability claims affect consumer spending
Perspectives from industry-leading experts on the EU's Packaging and Packaging Waste Directive revisions
A deep dive into the most important packaging sustainability trends and solutions