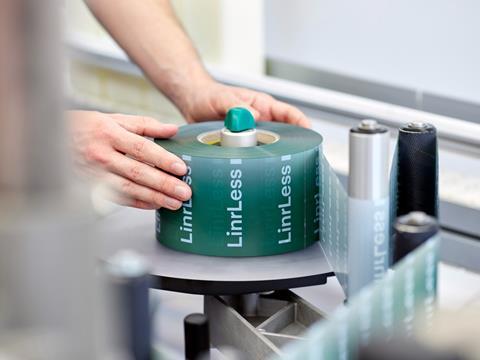 At Labelexpo Europe 2023, Avery Dennison will reveal two new decorative linerless solutions for pressure-sensitive labels featuring patented micro-perforation technology and its latest progress in connected packaging powered by its atma.io product cloud – setting its sights on both traceability and reduced environmental impact.
The AD LinrSave and AD LinrConvert are intended to optimise the functionality and shelf appeal of pressure-sensitive labels while also lowering label waste, decreasing CO2 and water footprints, and delivering on functionality and shelf appeal. In turn, they are set to Avery Dennison's goal of 'enabling the industry to drive to a more sustainable and connected future'.
"AD LinrSave and AD LinrConvert are easily integrated into existing equipment and with up to 80% more labels per roll it means more efficient runs and fewer changeovers," explains Wayne Middleton, senior Linerless Segment lead EMENA at Avery Dennison. "These more sustainable linerless labels can easily and accurately be applied on a wide range of packaging types used in sectors including food and beverage, wine and spirits plus home and personal care."
A series of labelled prototypes featuring RFID and NFC technology will also be on display. Demos available on the stand will tell the respective stories of a wine and the coffee offered to visitors across their production lines; atma.io is reportedly able to track and identify individual products throughout their supply chains and offer end-to-end transparency for both organisations and consumers with the touch of a smartphone.
Avery Dennison will also deliver a range of 30-minute interactive 'table talks' regarding the latest trends, tools, and regulatory changes in the packaging industry's pursuit of sustainability. These include:
How EcoDesign can help you create more sustainable packaging
The Packaging and Packaging Waste Regulation (PPWR), explained
How carbon footprinting can help you measure environmental impact
Digital Product Passport (DPP): What is it and what is the opportunity for you?
Chemicals Strategy for Sustainability (CSS): What is it and how does it affect you?
"At Avery Dennison, we put sustainability at the core of everything we do and envision a connected and circular future," says Steve Flannery, senior vice president and general manager of Materials Group EMENA. "Labelexpo is a great opportunity for us to showcase our new solutions and also engage with our partners and customers on the key issues that will shape the future of our industry over the next few years such as Digital Product Passports and the Packaging and Packaging Waste Regulation."
A full run-down of Avery Dennison's events at Labelexpo is available on the company's website.
In another recent development, Avery Dennison launched its AD XeroLinr DT – a linerless alternative for variable information labels geared towards the logistics and e-commerce industries. It utilises the Carbon Trust Tool to measure environmental impact and has apparently facilitated a 30% reduction in CO2 and a 40% reduction in water.
Four new labelling papers said to be made from recycled pulp and alternative fibres have also been unveiled by the company. These are set for premium packaging applications such as wine and spirits, craft beverages, gourmet food, beauty products, and fragrances, and expects to help customers make informed decisions and accurately gauge the impact of their products.
Also, a connected packaging survey conducted by Appetite Creative has suggested that the solution has grown in popularity in the last twelve months; 80% of respondents claimed to have used connected packaging in comparison to a previous 54%, with 48% now considering it an important method of educating customers.
If you liked this article, you might also enjoy:
The Lidl approach to packaging sustainability
How did Brazil achieve its 100% aluminium can recycling rate – and can it be replicated in the EU?
Experts have their say on the EU's Packaging and Packaging Waste Directive revisions
A deep dive into the most important packaging sustainability trends and solution