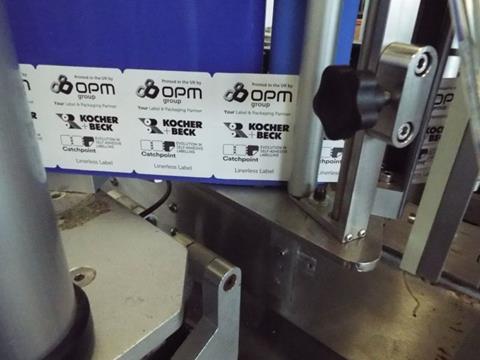 Avery Dennison has today announced its acquisition of the linerless label technology developed by Yorkshire-based company, Catchpoint Ltd., with the goal of making it widely available to its customers.
Avery Dennison says one of its key strategic priorities is to innovate in the area of sustainable product solutions. It adds that linerless labels have the potential to reduce liner waste, as well as production and transport costs.
The IP purchase apparently covers Catchpoint's patents, brand, trade secrets, and know-how. The companies add that Avery Dennison will honour Catchpoint's existing commercial agreements and that arrangements have been made to ensure the continued support of the Catchpoint team.
Noel Kasmi, VP of marketing at Avery Dennison Label and Packaging Materials EMENA, explains: "With the acquisition of Catchpoint, Avery Dennison will have intellectual property that helps us fulfil two of our main 2030 sustainability goals: to deliver innovations that advance the circular economy, and to reduce environmental impact in operations and technology.
"As we are pushing to make linerless labels available widely to our customers, this technology will help us move more quickly, enabling sustainable and cost-saving solutions to reach our customers around the world more rapidly.
"This is world class technology that will deliver real benefits to our customers and the environment."
Mike Cooper, business development director at Catchpoint, comments: "We are excited for Avery Dennison to be acquiring our technology with the intent of making its products more sustainable.
"Combining our technology with Avery Dennison's scale, market position and industrial know-how represents an amazing opportunity, a worthy destination for our journey to bring linerless labelling to the market.
Avery Dennison also recently acquired TexTrace, an integrated RFID products company, in a bid to implement textile RFID labels that can remain on garments for their entire lifetime, either in a sewn-on label or built into a product's seam.
In addition, Avery Dennison was granted limited compatibility approval by RecyClass for its acrylic adhesive label materials, which can reportedly remain on HDPE packaging without interfering with the recycling process.