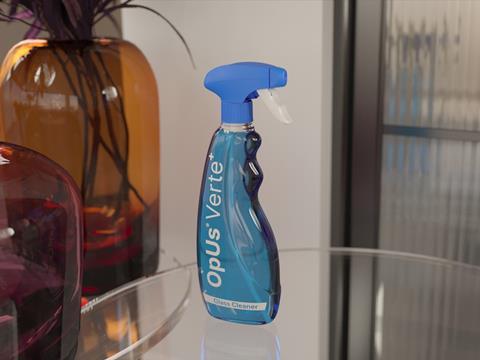 AFA Dispensing claims to have incorporated 67% post-consumer recycled resin in its new OpUs Verte+ trigger sprayer, which has a 'guaranteed lifespan' of over 10,000 strokes.
While certain components are still made from virgin resin, the company states that this brings durability and longevity to the sprayer's design. As such, it is thought that a single sprayer can be reused for up to 27 bottles of a 500ml liquid product.
The OpUs Verte+ builds upon the original OpUs Verte, which was released in 2019 and offers a PCR resin content of 47%. The new model hopes to meet growing demand for environmentally conscious packaging, cut down on single-use plastics, and increase recycled material content on the market.
Additionally, the company reports that the new sprayer does not come with an additional price premium.
"Our vision at AFA Dispensing has always been to innovate liquid dispensing, making it user-friendlier, more attractive, and better for our health and our planet," said Nir Gadot, CEO AFA Dispensing. "With the introduction of OpUs Verte+, we aim to empower brand owners and consumers to adopt sustainable practices, without compromising on quality or affordability. Together, we can make significant strides towards reducing plastic waste and building a more sustainable industry."
In a similar development, Berry has incorporated 29% post-consumer plastic into its removable trigger sprayer for refillable packaging. This is said to be 18% lighter than the current market standard.
Silgan Dispensing's SP05 R trigger sprayer features a patented plastic spring that apparently makes the whole pack compatible with existing PET, PP, and HDPE recycling streams.
If you liked this article, you might also enjoy:
McDonald's Director of Sustainability in Europe on the company's approach to packaging sustainability
McKinsey on whether or not on-pack sustainability claims affect consumer spending
Perspectives from industry-leading experts on the EU's Packaging and Packaging Waste Directive revisions
A deep dive into the most important packaging sustainability trends and solutions