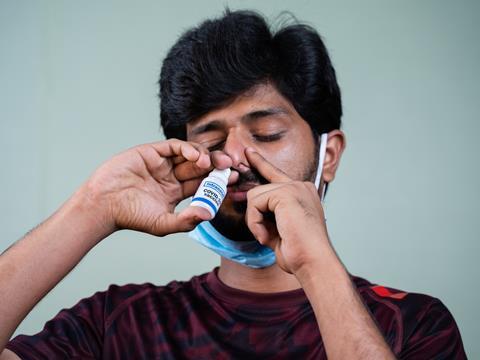 Aptar Pharma has combined its intranasal Unidose Powder Nasal Spray System with TFF Pharmaceuticals' Thin Film Freezing technology platform to develop and test the administration of dry powder vaccines.
The Thin Film Freezing technology is thought to facilitate the local administration of drugs and vaccines by converting them into a dry powder formulation. By administering them as nasal sprays, medical centres would no longer be required to dispose of syringes, thus reducing waste from single-use pharmaceutical products.
Additionally, they could simplify the global distribution of vaccines, the companies claim, by removing the requirement of extreme cold from the supply chain – a transition that could benefit regions and countries with limited infrastructure for refrigeration.
A nasal powder solution would also allow patients to vaccinate themselves, and it is predicted to result in various health benefits. The nasal passageway is thought to be a common point of entry for some pathogens, so applying a vaccine to this area will theoretically prevent infection at the root and lead to improved systemic and mucosal immunity.
Aptar Pharma presented the companies' findings – including the physical characteristics of the formulation, the integrity and activity testing of the dry powder vaccine after administration, and the emitted particle size – at the Vaccines Summit 2022, and is set to provide additional data at the World Vaccine & Immunotherapy Congress later this month.
The companies have worked alongside the University of Texas at Austin to summarise the results of the initial intranasal vaccine feasibility testing in a pre-print publication, with a peer evaluation and the tests' results set to be published in the coming months.
"We are very excited to partner with Aptar Pharma to test our Thin Film Freezing formulation with their unique intranasal device," said Glenn Mattes, president and CEO of TFF Pharmaceuticals. "By combining our collective and proprietary expertise in drug development, device engineering and formulation technologies, we believe this collaboration has the potential to create ground-breaking advancements in the field of drug delivery. Intranasal dry powder vaccines could be a true game changer for people around the world."
"The nasal vaccine formulation developed using TFF Pharmaceutical's technology combines the antigen and adjuvant into one ready-to-use device," added Dr. Julie D. Suman, vice president of Scientific Affairs at Aptar Pharma. "This eliminates the need for combining separate vials, which potentially saves time, reduces human error and medical waste."
If successful, the nasal powder vaccine solution could replace such extreme cold solutions as SCHOTT's FIOLAX borosilicate glass tubing, reportedly able to withstand temperatures as extreme as -200°C; and H.B. Fuller's range of adhesive grades with hot melt technology to facilitate the ultra-cold storage of vaccines and medicines, reportedly providing a bond at -70°C with tamper-evident fibre tear.
Another packaging solution for vaccine distribution comes in the form of sterile bioprocessing bags manufactured by Sartorius with Südpack polymer films made from Dow resins. These have reportedly produced 3D flexible bags that are aimed to facilitate the global transportation of COVID-19 vaccines.