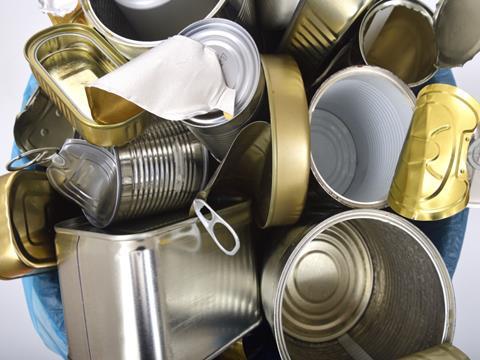 The Association of European Producers of Steel for Packaging (APEAL) reports that the recycling rate for steel packaging in Europe reached 85.5% in 2020, marking an increase for the 10th consecutive year.
According to APEAL, the recycling rate for steel packaging has increased by 1.5% compared to 2019 figures, bringing the total to what it calls an "all-time high" of 85.5%.
The organisation also reports that "more countries than ever before" have reached a recycling rate for steel packaging of over 90%. Currently, Norway, Estonia, Germany, the Netherlands, Belgium, and Spain have reached this rate, based on APEAL's data.
APEAL says that the magnetic properties of steel make it easy to collect from any waste stream, while it can reportedly be recycled continuously without any loss of material quality. The organisation claims that 100% of recycled steel from the 500-plus recycling plants across Europe is used for new steel products, such as industrial equipment like wind turbines or as a new item of packaging.
Alexis Van Maercke, secretary general of APEAL, comments: "The excellent recycling rate which steel packaging continues to improve upon each year, is testament to steel's strong environmental credentials and the work of stakeholders throughout the value chain to improve recycling processes, infrastructure, and consumer communications.
"More needs to be done, however. APEAL's vision, Zero steel packaging to landfill by 2025, remains unchanged and there are still a number of countries which have some way to go to reach the average recycling rate for steel packaging in Europe."
At the moment, APEAL notes that the Republic of Ireland, Portugal, Slovenia, Croatia, Hungary, Lithuania, and Romania have a recycling rate for steel that is below 70%.
van Maercke continues: "Indeed, preventing recyclable packaging from being sent to landfill is one of six key policy recommendations in APEAL's 2022 recycling report, published earlier this year."
In APEAL's report on steel recycling, the organisation acknowledged that multi-layer packaging can complicate the steel recycling process and that mono-material design is preferable where possible. The report also included guidance for educating consumers on how to recycle steel, which could help to facilitate the correct end-of-life for additional aspects of packaging like closures. Additionally, the organisation proposes a recycling hierarchy for packaging, which promote materials that can be recycled repeatedly – like steel.
As for the current recycling rate statistics, the methodology and data sources used by APEAL have been independently reviewed, audited, and certified by energy and waste specialist consultancy, Eunomia. Notably, the newly-adopted EU recycling rate calculation methodology is meant to guarantee that the accepted tonnages at the entrance of the recycling operations (rather than in addition to collected and sorted tonnages) are used to calculate the recycled tonnages.
Steve Claus, circular economy and sustainability officer at APEAL, explains: "A number of Member States have already delivered their recycling figures according to the new EU recycling rate calculation methodology which creates a level playing field, not only for the Member States, but also for the packaging materials as only real recycling will be reported.
"The new methodology is mandatory for 2020 data onwards, to be reported by June 2022 at the latest. However, several Member States will only be able to apply these new rules from next year onwards. 2020 data is therefore considered to be a transition year, but we are confident steel continues to lead the recycling rate for packaging materials across Europe."
In March this year, AMI reported that the mechanical recycling rate for plastics exceeded 8 tonnes in Europe in 2021, bringing the total figure to 23.1%. Plastics Recyclers Europe also says that the total installed plastics recycling capacity increased by 13% in 2020.
The 4evergreen Alliance has set the goal of increasing the overall recycling rate for fibre-based packaging in Europe to 90% in 2030. According to Cepi, the recycling rate for paper in Europe reached 73.9% in 2020.
For other materials that, like steel, are considered to be infinitely recyclable, the aluminium recycling rate reached 68% in the UK in 2021, as reported by Alupro. The European aluminium industry is aiming for 100% of aluminium cans to be recycled by 2030. Meanwhile, in December 2020, FEVE reported that the glass recycling rate in Europe was steady at approximately 76%, and the organisation's members have committed to reaching a 'collection for recycling' rate of 90% by 2030.