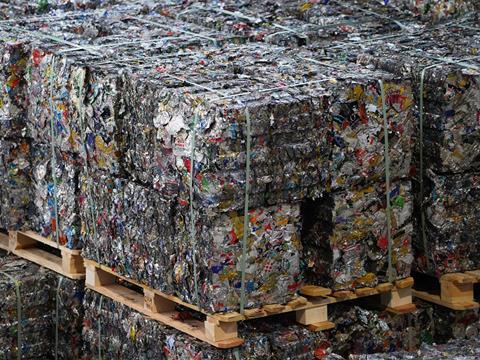 European Aluminium and Metal Packaging Europe today launched a joint roadmap towards achieving 100% aluminium beverage can recycling by 2030.
This new announcement reflects the belief among aluminium producers of cansheet, manufacturers of aluminium beverage cans, and recyclers of used aluminium beverage cans that the full potential of the aluminium beverage can as a player in a truly circular economy can be achieved within the next ten years.
The overall recycling rate for aluminium beverage cans in the European Union (EU-28, including the UK as a full Member State in 2018), Switzerland, Norway and Iceland increased to a new record level of 76.1% in 2018.
The roadmap lists four specific areas of interest:
Improving kerbside and on-the-go waste collection systems for aluminium beverage cans
Increasing efficiency in sorting infrastructure and addressing informal recycling effectively
Recovering aluminium from bottom ash treatment
Informing and engaging consumers effectively
The roadmap was launched during a webinar this morning, organised jointly by the two associations and attended by over 200 stakeholders.
At the event, Kestutis Sadauskas, director for circular economy and green growth at the European Commission's Directorate General for Environment, welcomed the initiative: "The aluminium industry can be praised for its efforts to improve the recyclability rate of aluminium beverage packaging. But work still remains to be done.
"Our ambition is that all packaging put on the EU market in 2030 is either recyclable or reusable. A transformative joint effort is necessary to make all packaging circular, to reduce inefficiency and environmental impact, and I do not underestimate the challenge.
"The Commission acknowledges the importance of aluminium as a resource towards a circular and low carbon economy. We must also play our part and the Recovery and Resilience Facility will provide large-scale financial support to investments."