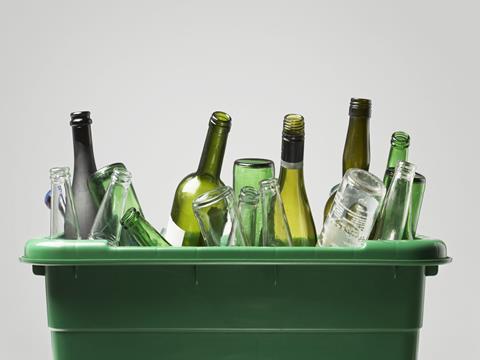 The European glass packaging industry announces "Close the Glass Loop" - a programme to boost EU glass 'collection for recycling' rates to 90% by 2030. The move comes as a proactive response to new EU rules to increase net recycling targets for glass packaging to 75% by 2030.
Today, over 76% of glass packaging placed on the European market is collected for "bottle to bottle" recycling, already putting the circularity of glass in a "league of its own".
Industry CEOs have unanimously agreed to set up the "Close the Glass Loop" programme with the common ambition to achieve an EU-wide 90% collection for recycling target for glass packaging by 2030. The programme will be shaped in the coming months with value chain partners, with initial discussions on collaboration already underway. The official platform launch is planned in June 2020.
"Our goal is to keep increasing the sustainability credentials of the glass packaging solutions we provide to our customers and consumers," stated FEVE President Michel Giannuzzi. "We are proud to lead 'Close the Glass Loop', an industry-wide initiative that will have real benefits for the market and our planet alike: it is our call for action to deliver an ambitious Circular Economy Action Plan for glass."
This initiative aims to bring together the different stakeholders of the glass collection and recycling loop under a common European platform, with a twofold objective of closing the collection gap and improving the quality of recycled glass (cullet), so that resources remain productive in a bottle-to-bottle manufacturing loop. The organisation argues that more availability of good quality cullet means a more resource-efficient production process, reportedly providing a premium level, safe and truly recycled packaging material.
It all starts with collection. The "Close the Glass Loop" programme will look to boost collection and involve the many committed European and national partners, from municipalities to glass processors and industry customers, including the Extended Producer Responsibility schemes operating across EU Member States. "To be successful, we need to work locally in every EU Member State, while sharing best practices and raising ambitions via a European platform. We don't believe in a single European model for glass collection, but we do believe in a single ambition," stressed Michel Giannuzzi.
"We are very proud to have been able to set the foundations for such an ambitious programme, which has a very strong support inside the membership and perfectly matches the objectives of both the UN Sustainable Development Goals (SDGs) and the European Green Deal of the new European Commission," stated Adeline Farrelly, Secretary-General of FEVE.
The organisation says that the production of glass packaging for food, beverages as well as in the pharmaceutical, perfumery and cosmetics sector with an "endlessly recyclable", reusable and permanent material translates to less consumption of natural resources, less waste and less use of energy in line with the Sustainable Consumption and Production Goal (SDG 12). At the same time, it is argued that glass recycling directly allows the industry to dramatically reduce energy consumption and CO2 emissions, in line with the Climate Action Goal (SDG 13).