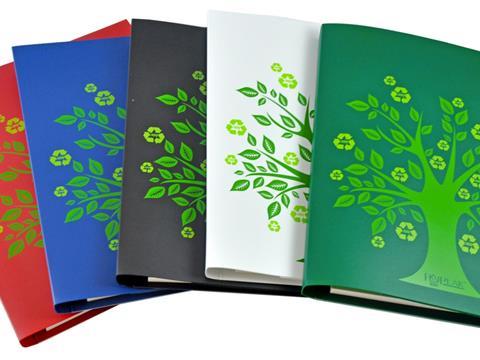 Antalis Visual Communications has launched Priplak R100, a flexible plastic sheet manufactured from recycled polypropylene (PP) sourced from manufacturing waste and the company's 'buyback' scheme.
According to Antalis, Priplak R100 is manufactured using certified post-industrial PP waste, which is derived from a combination of Priplak's manufacturing waste and that of customers participating in the Priplak 'buyback' scheme. Priplack R100 is also reportedly fully recyclable.
The company says the strong, flexible plastic sheet is ideal for point of sale, stationary, labels, packaging, and counter-top display applications.
In addition, Priplak R100 has a smooth, white surface that is corona treated on both sides for UV printing, the company explains. Priplak R100 is apparently halogen-free.
Paul Neale, visual communications product manager at Antalis, comments: "For some applications, plastic offers significant advantages, including longevity, durability, protection, and reusability.
"Priplak R100 and the Priplak 'buyback' scheme helps to close the loop, creating a product that is also highly sustainable."
Priplak R100 is available via Antalis from stock. The company adds that its Priplak PCR100 sheet made from 100% post-consumer PP waste is available to order ex-mill.
Earlier this year, Antalis developed a paper-based shipping container that is allegedly made from more than 80% recycled materials and is 100% recyclable, which uses a honeycomb cell design to enhance the protection of fragile goods.