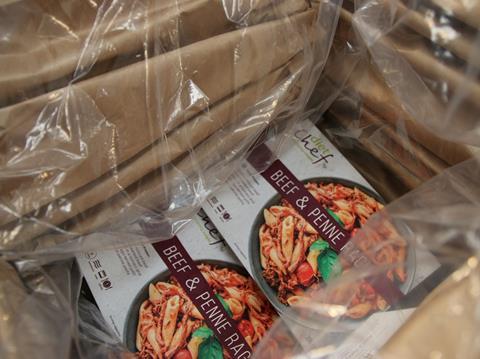 Antalis now offers WrapPak® Protector, a pioneering new thermal packaging solution for food manufacturers and retailers looking for cost effective and eco-friendly packaging to transport their chilled and frozen goods.
Developed by Dutch packaging manufacturer Ranpak, the WrapPak Protector system is the first solution of its kind available in the UK and includes a state-of-the-art machine that compresses layers of paper to produce a unique thermal wrapping infill.
When used to line the inside of a box, this innovative paper filling, which can be customised to include up to four layers of paper, provides enhanced insulation for chilled and frozen foods – making it a great alternative to plastic or foam void-fill.
Easily adaptable to any box size, when compared to traditional packaging techniques, the WrapPak Protector solution has been shown to offer a number of cost-savings as the infill can be produced on-demand and with added precision – reducing overall storage, materials and handling costs.
And that's not all. With 2018 seeing many of the UK's major supermarkets and top brands vowing to adopt more environmentally friendly packaging, one of the major benefits of this paper-based protective product is that it is sustainable and easy to recycle, ensuring a low carbon footprint for organisations keen to boost their green credentials.
Scott Day, 'In The Box' packaging systems and solutions manager at Antalis, comments: "More and more of our customers, particularly in the food and e-commerce sectors, are exploring ways to include eco-friendly solutions within their packaging process whilst still maintaining the highest standards of protection when it comes to transporting their goods through the supply chain.
"The WrapPak Protector system is truly a one of a kind paper packaging solution which is not only sustainable and easy to recycle, offering the ultimate protection and insulation for chilled and frozen foods, but for many businesses it is much more cost-effective than their existing packaging operations."
Already proving a hit with businesses and industry alike, the WrapPak Protector's use in Diet Chef's frozen hamper has seen the subscription food company recently shortlisted in the UK Packaging Awards 2018 for the Best Packaging of a New Product.