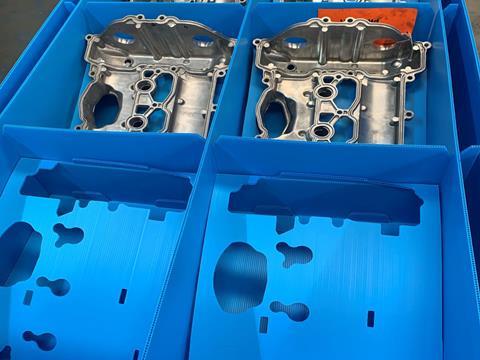 Antalis Packaging announces a reusable pack designed to reduce waste and increase efficiency in the distribution of car parts for its partner, an aluminium die casting company that supplies the automotive value chain.
The unnamed aluminium car company frequently ships consignments of car parts to another company within the automotive supply chain, according to Antalis. Antalis says that its client required packaging for distributing "awkwardly" shaped car parts that was reusable, easy to pack and unpack, and would be resistant to damp in order to protect the contents.
Antalis adds that its client was previously wrapping each car part in bubble wrap before placing it in individual boxes, which it claims is inefficient for both the aluminium die casting company and the recipient.
The new packaging solution developed by Antalis utilises divider sets, layer pads and an insert to hold each piece in position. According to Antalis, six units can be placed in a single layer, with a total of five layers included in each box, when the pieces are angled.
The total height of the new box is just under 1.5 metres. The time taken to pack 30 units (one pallet's worth) was reportedly reduced from one hour to 10 minutes using Antalis's new solution.
Todd Smith, packaging technologist at Antalis, comments "The client was keen to have a packaging solution that would be efficient to use and that could be retained in a constant loop to minimise waste. The key to the packaging design was finding a way to stabilise the parts in a way that meant they could also be stacked.
"After making a few samples on the CAD table at our Smart Packaging Centre, we came up with the solution that fulfilled all the needs. Our knowledge of packaging materials led us to propose Correx for its versatility, durability, and water resistance."
Antalis opened its flagship Smart Packaging Centre at its head office in Coalville, UK, in 2018, allowing the company to respond quickly to challenges facing customers, develop new designs, and test and modify its packaging solutions.
Other packaging innovations from the company include its Sealed Air Bubble Wrap® IB Expressions, a bubble wrap solution that can be custom designed to enhance brand visibility while protecting products, and the WrapPak® Protector thermal packaging solution, a paper filling for boxes used to transport chilled or frozen goods – the first of its kind available in the UK.