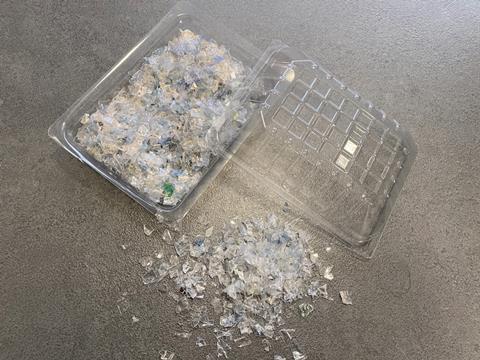 AMB Spa has signed a partnership agreement with B. For Pet, an Italian recycler, with the aim of processing rPET flake from post-consumer trays, which will be used to produce new food packaging such as transparent films.
The agreement involves AMB's tray-to-tray recycling brand TrayRevivie, which launched earlier this year, and follows a period of collaboration with B. For Pet.
As part of the agreement, B. For Pet will reportedly supply rPET in the form of flakes from post-consumer trays, sourced from the company's new recycling plant in Campolattaro, Italy. B. For Pet says that the quality of the recycled material has improved since the start of the project due to continuous research and development and will now be used to manufacture food-grade transparent films.
AMB adds that the partnership will ensure significantly higher tray recycled plastic content in its end products by utilising materials that could not be used previously. The company claims that the new products will balance recyclability and food safety, while it continues to utilise new recycling streams to support the food packaging industry's sustainability efforts.
Paolo Cescutti, chief procurement officer at AMB, explains: "At AMB we have invested time and resources in our partnership with B. For Pet, working and testing intensively to develop the right material that delivers a truly sustainable source of raw materials from post consumers trays. Meaning we can divert more away from landfill or incineration, by the end of this year we would divert over 46 million trays.
"Our in-depth knowledge and understanding of materials gained through this approach led to AMB's tray-to-tray recycling initiative for its TrayRevive product. The recycled tray material was developed in collaboration with B. For Pet fits our existing equipment and enables us to efficiently turn plastic waste into food-grade packaging."
Remo Brusaferri, commercial director of B. For Pet, adds: "We are delighted to be extending our long-standing partnership with AMB, as B. For Pet is playing a critical role in pioneering closed-loop plastic recycling in Italy and we are pleased to support AMB in developing sustainable packaging solutions."