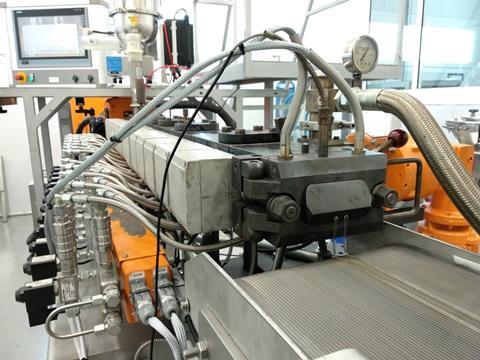 AIMPLAS has announced that its reactive extrusion pilot line is ready to produce bio-based nanomaterials for food packaging and agricultural solutions as part of the BIOMAC project.
BIOMAC, or the European Sustainable Bio-Based Nanomaterials Community, is an EU-funded Horizon 2020 project fostering an Open Innovation Test Bed (OITB), or a collaborative ecosystem in which technologies and solutions that relate to bio-based materials are upscaled for market applications. It has been in development for two years, and is now offering its services to small and medium European enterprises alongside research centres within the bio-nanomaterials sector.
This ecosystem provides open access to its seventeen pilot lines and complementary service, encapsulating the entire value chain from biomass fractionation and intermediate chemicals to the outcome of the final bio-based materials. AIMPLAS runs the eleventh pilot line – a reactive extrusion pilot plant dedicated to the polymerisation of PLA and its copolymers alongside the production of PLA-based nanocomposites.
The pilot line aims to develop PLA copolymers for injection moulding, as well as PLA nanocomposite formulations for blown film applications. It is also testing PLA-based masterbatches with nanoparticles for mulching applications in the agricultural sector.
Now that it has been validated through five internal test cases, including one focused on food packaging, the project is set to release an open call for expressions of interest on 15th December 2022. It is hoped that five additional test cases in textiles, medical-biomedical, tissue engineering, single use items, and more will be selected.
BIOMAC aims to boost and sustain innovation in the field of European bioeconomy by reducing the time-to-market of nanotechnologies and cutting down on cost and risks. Although there are still technical, economical, and regulatory restrictions preventing the upscaling of bio-based polymers and nanomaterials, it is hoped that BIOMAC can break down these barriers and make progress.
Earlier this year, Avery Dennison partnered with start-up FL Technology – a company that has created a nanomaterial capable of removing ethylene and inhibiting the growth of bacteria responsible for the decay of fruits – as part of its ADStretch Accelerator programme, which hopes to create a positive ecological impact by developing new materials.
The HiBarFilm2 Consortium, funded by Innovate UK, is another project aiming to use plasma functionalised nanomaterials to develop a mono-material film to match the same barrier performance as multi-material packaging technologies.