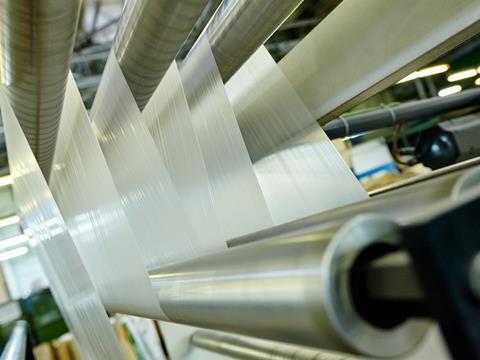 The HiBarFilm2 Consortium, a project funded by Innovate UK, is aiming to develop a mono-material film that offers the same barrier performance as current multi-material packaging technologies using plasma functionalised nanomaterials.
Launched in March 2022, the HiBarFilm2 Consortium apparently builds on the success of its feasibility study project (HiBarFilm) and is expected to run for 30 months. The project is targeting multi-material films, which the organisations involved say represent nearly a quarter of consumer packaging but only 6% is recycled.
The consortium says it is looking to use plasma functionalised nanomaterials to increase the barrier performance of mono-material films with the target of boosting recyclability. This will reportedly involve either mixing the nanomaterials directly into the polyolefin prior to filming, adding the barrier properties to the film itself, or dispersing the nanomaterials into a barrier coating and applying this to the polyolefin substrate to create a high barrier, high-performance mono-material film.
The HiBarFilm2 product will use polyolefin film and compostable plastics to address the issue of contamination of films with food waste such as fats and blood, the consortium adds.
The HiBarFilm2 Consortium includes BASF, Bangor University, Cambridge Nanomaterials Technologies, Dunbia, Fre-Energy, Recycling Technologies, and Wells Plastics. Parkside Flexibles recently announced that it would be joining the consortium.
Paul McKeown, divisional sales director of specialty packaging at Parkside, comments: "Our company thrives on innovation, so this partnership is a natural fit for us. With the combined expertise of the HiBarFilm2 consortium, we are confident that we can create a sustainable, high-performance film technology that will be at the heart of packaging design for years to come."