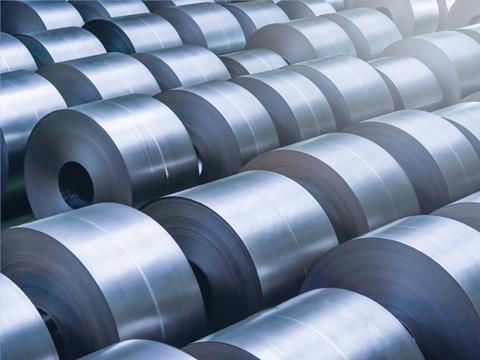 Earlier this year APEAL, the Association of European Producers of Steel for Packaging, appointed Luc Brantjes, Sales Director Packaging at Tata Steel Netherlands, as its new president. So, what's the outlook for the steel packaging market, and how is it working towards enhanced sustainability? We recently caught up with Brantjes to learn more.
To start us off, could you introduce yourself, talk a bit about your background, and tell us more about your new role?
Having worked in the steel industry for more than 25 years I am delighted to be able to draw on that experience as APEAL's President, and work collaboratively with stakeholders across the value chain to ensure steel packaging continues to play a key role in the drive for a more circular economy.
In addition, my current role as Sales Director Packaging at Tata Steel Netherlands means that I have an immediate understanding of the many challenges and complexities the producers of steel for packaging must tackle in the coming months.
The European Commission's recent publication of the Packaging and Packaging Waste Regulation (PPWR) published in November 2022 was a bold step towards the realisation of a truly circular economy but there is a great deal still to do. During my presidency of APEAL, we will be working hard to ensure that no recyclable packaging goes to landfill in the forthcoming review of the Waste Framework and Landfill directives. Permanent materials such as steel are too valuable to waste.
This is also a time of great innovation, and I am excited to be starting this new chapter with APEAL, as the industry reduces emissions through a transition to greener steel. I will also work hard to support the reduction of food waste. Food waste accounts for up to 10% of greenhouse gas emissions, and steel for packaging provides a key to reducing such emissions. Due to longer shelf life and less waste from food preparation, tinned foods drastically cut food waste and present an affordable option for consumers at a time when the price of food is rising across Europe.
The challenges we have all faced in the last few years have been wide-ranging and impacted significantly on every industry, but I am confident the APEAL team will continue to work successfully with the European Commission, European Parliament, Member States and all stakeholders to deliver our ambitious plans.
What have you identified as the key challenges you'll be confronting in your new role? How will you look to confront these challenges?
The Packaging and Packaging Waste Regulation (PPWR) was cautiously welcomed by APEAL, and indeed the objectives of the PPWR receive our full support. However, it is clear that more needs to be done to achieve the European Commission's desire for all packaging on the EU market to be reusable or recyclable in an economically viable way by 2030.
To properly achieve a circular economy in this time frame, packaging should not only be designed so that it is economically recyclable, but also be effectively and efficiently recycled at scale by 2030. This should include the introduction of minimum recyclability criteria for all packaging put on the market, ensuring a level-playing field across all materials.
As such, I am pleased that mandatory recycled content targets are proposed to boost the uptake of certain recyclates with low demand, and not for materials such as steel which are already highly recycled, and significantly, where demand for scrap already exceeds supply.
APEAL is working tirelessly to ensure that steel, as a permanent material that can be recycled again and again, is recognised over materials that cannot be recycled or can only be recycled a limited number of times. Considering the already high yet growing recycling rate of steel packaging, and the fact that steel can be recycled again and again with no loss in quality, I believe steel packaging has a vital role to play in a truly circular economy.
Additionally, we will be working hard in the coming years to raise awareness of the nutritional value of many canned foods, and how steel for packaging can help to reduce food waste. As food waste accounts for up to 10% of global greenhouse gas emissions, and the vitamin content of canned foods is proven to be equal to, and in some cases greater than fresh, steel for packaging clearly has an important role to play to protect the health of our environment and our citizens.
I wonder if you can give us an overview of the steel packaging market as things stand in 2023? How has it been affected by macro issues like the Russian invasion of Ukraine, rising energy costs, and COVID in recent times?
War in Europe has had many consequences throughout global supply chains in every industry while the volatility and escalation of energy prices has exacerbated these challenges.
The steel packaging market is not alone in facing these issues that follow all of the challenges presented by the pandemic, but our industry has proven its ability to adapt and demonstrated its innovative spirit.
It's also important to remember that all of the steel plants in Europe are also recycling plants as they all use steel scrap to manufacture new steel products. This is key to the resilience of the steel packaging market, and I know the industry will maintain the momentum created in the last few years, to further strengthen steel's position as an ideal material to meet the challenges the packaging sector faces in the years ahead.
The steel packaging industry boasts an impressive recycling rate of around 85.5% in Europe. In the view of your organisation, how can the remaining 14.5% be captured and recycled? And is that even a realistic possibility?
Steel is widely regarded as one of the most sustainable packaging materials, and the incredible progress our industry has made to improve recycling rates in recent years has again continued. For the tenth consecutive year, APEAL reported an increase in the overall recycling rate of steel packaging in Europe. The new all-time high of 85.5% represents an increase of 1.5% and consolidates steel's position as the premier choice for sustainable packaging solutions.
Clearly, it is important that we continue this work and maintain our progress toward a recycling rate of 100%. In our white book titled 'Why steel recycles forever', published last year, we outlined six policy recommendations to further improve steel recycling.
Our recommendations included: optimised separate collection; a second overband in sorting plants to ensure that recyclable caps, lids, and closures are not sent to landfill, and consumer involvement.
Whilst the technical recommendations around separate collection and sorting are vital, key to improving recycling of any material is awareness amongst consumers. Simple and easy-to-understand sorting instructions for consumers, brought via state-of-the-art and repeated communication campaigns or enforcement to motivate and incentivise participation, will form the core of any efforts to further improve recycling rates.
The European steel industry aims to cut emissions by 55% by 2030 and reach carbon neutrality by 2050. How will it achieve these goals? Is there a roadmap in place?
The European steel industry has come a very long way in recent decades, and indeed CO2 emissions generated by the industry have halved since 1960. Of course, more needs to be done and innovations in green steel are part of this process, driving the industry to cut emissions by a further 55% by 2030 and reach carbon neutrality by 2050.
Steel is currently undergoing the biggest change since its invention. The primary production processes of the material are being revolutionised in an effort to achieve the ambitious targets. Progress toward carbon neutrality in the industry is being driven by a massive €30 billion capital investment in breakthrough technologies over the coming eight years and a significant increase in operational costs stemming from the use of decarbonized electricity and hydrogen.
It is an industry-wide effort, and this collaborative spirit combined with our determination to work towards a sustainable future, will ensure steel packaging continues to play a significant role in a low-carbon and circular economy.