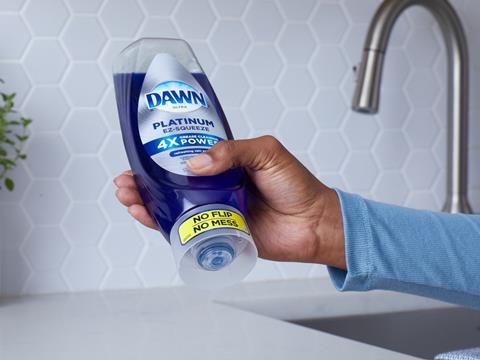 Dawn, a Procter & Gamble brand, has today introduced its Dawn EZ-Squeeze, a new inverted bottle with a patented no-flip cap technology, which offers easier and more accessible dispensing of washing up liquid.
The patented design allows the Dawn EZ-Squeeze to stand on its cap and dispense from the bottom without leaking. P&G says that the unique valve design is one of its most researched and rigorously tested products in its washing up liquid category, with more than five years of research and designs by Dawn going into the innovation.
During consumer testing, the company found that the lack of cap improved ease of use for people who had struggled with the previous design, which did not allow easy dispensing with one hand. The new design reportedly allows consumers to apply the intended amount of soap directly to dishes with greater control.
Speaking to Packaging Europe last year, Sumaira Latif, accessibility leader at P&G, discussed the importance and impact of the company's existing accessible packaging design elements, including laser etching tactile markers and QR codes on its respective Herbal Essences and Pantene brand bottles.
Other brands are also beginning to recognise the significance of accessible design. For example, Olay North America's Easy Open lid prototype, which features a winged cap that allows for easier opening, extra grip on the raised lid, a high contrast product label, and braille text, was designed with disabled consumers and will not be patented by the company so others in the industry can use it.
Guerin McClure, vice president of North America dish care at P&G, comments on the new bottle design: "Dish soap bottles are one of the most-used household items, so they should be easy to use – from the first drop to the last.
"You've likely spent time shaking, flipping, and banging your dish soap bottle on the countertop in a messy attempt to make the most of every drop."
Corey Brugh, senior brand manager at P&G, adds: "We noticed a gap in design innovation when it comes to dish soap bottles, and we were excited to act on it.
"We're excited about the incredible response Dawn EZ-Squeeze has received already through our initial testing, and can't wait for more people to try this groundbreaking and efficient way to wash dishes."
The Dawn EZ-Squeeze bottle is currently being trialled across the US.