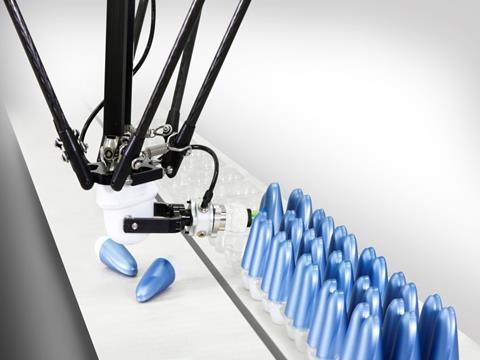 ABB Robotics & Discrete Automation is launching its new five axis Delta robot, which it expects to increase the speed and efficiency of packaging lightweight products on factory lines.
With its 1.5kg payload, the IRB 365 is the latest installment in ABB's FlexPicker Delta robot portfolio, allegedly the fastest in its class.
It is a response, the company claims, to the increasing popularity of online shopping and subsequent demand for shelf-ready packaged goods. As a result, the IRB 365 is designed to pick, pack, and reorient lightweight products in markets wherein the speed and flexibility of the production line are important factors – food and drink, pharmaceuticals, and consumer packaged goods, amongst others.
"The IRB 365 can pick, reorientate and place 1kg products at 90 picks per minute," says Roy Fraser, ABB Robotics' global product manager. "By handling more products per minute, the IRB 365 robot increases productivity, while saving time and energy to make production more efficient."
ABB's PickMaster Twin software is said to use digital twin technology to install the IRB 365 into packaging lines in minutes, rather than the hours or days it may take for other machines. It can then be put to various uses, from handling and unscrambling bottles to applying secondary packaging, and can connect with other robots (such as previous ABB model IRB 390) to pack payloads weighing up to 15kg.
This innovation comes after ABB's partnership with Zume in November 2021 to work towards cost-effective and 100% compostable plant-based packaging.
Two months prior, ABB launched its FlexBuffer application cell in the hopes of maximising efficiency regarding the storage and retrieval of ordered products.