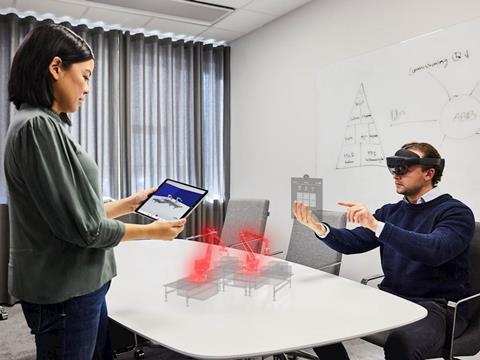 ABB has incorporated cloud-enabled functionality into its RobotStudio robot programming and simulation software, aiming to enable flexibility, transparency, and real-time collaboration in the testing of virtual robot cell designs.
With a simplified interface and intuitive navigation intended to provide accessibility for users of all skill levels, the RobotStudio Cloud is said to offer such features as automatic version control in a bid to increase transparency and productivity across teams. The software produces a digital twin with which virtual controllers can be used to test and optimise the robots before physical materials are used to build them.
Furthermore, the RobotStudio Cloud – compatible with any device, according to ABB – is expected to bring down the costs, time, and disruption of physical testing and commissioning in the cloud-based collaboration process, with users able to keep track of edits to the programme. It is also reported to come with enterprise-grade connection for high security and productivity.
"At ABB Robotics, we continue to develop innovative and flexible solutions to help businesses overcome challenges, respond to changing customer needs and thrive in an age of increasing digitalization," said Marc Segura, President of ABB's Robotics division. "New web-based tools like RobotStudio Cloud bring a new level of agility and flexibility to manufacturers in how they plan and design their robotic automation solutions.
"Offering a simplified user experience, RobotStudio Cloud helps to increase collaboration and reduce complexity, enabling both novices and experts to push the boundaries of robotics programming."
Another recent use of digital twin technology came in the form of Merck KGaA and Gerresheimer's solution to increase traceability and trust across the value chain for the pharma, biotech, and cosmetics sectors.
Meanwhile, Avery Dennison's atma.io connected product cloud underwent various developments last year, including the addition of tools to measure products' carbon footprints and analyse efficiency across its value chain; and the company's partnership with the HBAR Foundation to incorporate Hedera's distributed ledger technology into the system.