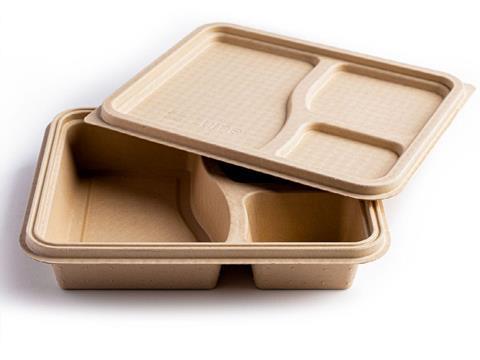 ABB Robotics announces its agreement with Zume to scale and automate the production of plant-based packaging that the companies claim is a fully compostable and cost-effective alternative to single-use plastics.
Over the next five years, ABB says it will integrate and install over 1,000 moulded fibre manufacturing cells (MFC), including up to 2,000 robots, at Zume's global customer sites. Zime expects that ABB will equip its factories with up to 100 robotic cells each.
ABB will use its Global Solution Centers – a network of automation experts and programme managers – to provide the scale, modularity, and speed required to launch Zume's packaging solutions.
Zume claims that its packaging material is made from sustainably harvested plant material left over from agricultural production, including bamboo, wheat, and straw. It adds that the plant material has a lower carbon footprint and uses less water and energy than plastic packaging, as well as being biodegradable after use.
According to Zume, the company has patented an innovative manufacturing process to develop the compostable packaging for applications including food, cosmetics, and consumer goods.
Containers can be moulded from the plant material by Zume's moulded fibre cells integrated with two ABB IR 6700 robots, says the companies. Each cell can reportedly process up to two tonnes of agricultural material every day and create 80,000 pieces of sustainable packaging.
The companies add that with the automation, speed, and scalability provided by the MFC, each site could potentially process 71,000 tonnes of agricultural material annually, with the potential to produce up to two billion pieces of packaging each year.
A pilot project has been installed by Zume and ABB at Santia Industries Limited, a large wood and agro-based paper manufacturer based in India. This has created a facility of 50 manufacturing cells that will allegedly process 100 tonnes of what straw each day to produce compostable packaging for a range of industries.
Other planned pilot installations include Parason, a global pulp and paper industry supplier also based in India, and Jefferson Enterprise Energy, a compostable packaging factory apparently powered by renewable energy and located in Texas, USA.
Sami Atiya, president of ABB Robotics & Discrete Automation, comments: "Automating production of Zume's sustainable packaging with ABB robots makes this a viable and economic alternative to single-use plastics."
Alex Garden, chairman and CEO of Zume, adds: "Using ABB's global automation experts to develop and integrate automation solutions for our customers will revolutionize packaging and demonstrate what sustainable manufacturing can look like.
"The flexibility and scalability of ABB's robots enables an efficient automated manufacturing process. This means we can offer a viable, cost effective, compostable alternative to plastic, and help manufacturers to become more environmentally-friendly."
ABB says that its partnership with Zume will be part of its response to consumer and legislative demand for alternatives to single-use plastic, while using automated solutions to respond to the growing demand for packaging of all kinds. In September, ABB expanded its e-commerce solutions with the FlexBuffer application cell, which allows the storage and retrieval of mixed items based on the sequence in which they need to be dispatched.