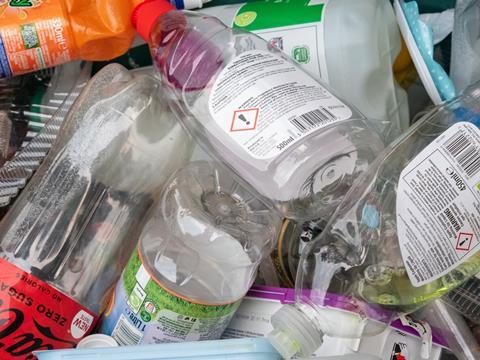 In a new report, RECOUP has estimated that 750,000 tonnes of household plastics are not currently collected for recycling in the UK and calls for new legislative changes to close the loop on the nation's plastics.
According to its newest UK Household Plastic Packaging Collection Survey, over 600,000 tonnes of household packaging was captured in 2021 – a figure that exceeded 2020's collection rate by 4% – resulting in an overall collection rate of 43% for all such packaging recycled at kerbside.
By contrast, over 200,000 tonnes of plastic bottles, 250,000 tonnes of plastic pots, tubs, and trays, and over 300,000 tonnes of plastic films and flexibles fell by the wayside, the report claims. It is also reported that local authorities experience an average material rejection rate of 13%, yet the figure can be as high as 35% in certain locations.
As such, RECOUP asserts that the capture of plastic packaging must increase – and that consumers should be given clear and consistent information to ensure that their recycling remains uncontaminated and produces high-quality recyclate. This is especially prevalent given the rapid changes in EPR legislation anticipated for the coming years, with an up to 62% recycling target expected for 2030.
"It's reassuring to see that, despite the significant challenges seen over the last few years, collection volumes continue to increase, albeit gradually," says Tom McBeth, Policy & Infrastructure Projects Manager. "What is now important, is it is not allowed to stagnate.
"With the current flurry of information and activity from Defra, particularly relating to the introduction of EPR, and the funding mechanisms and mandated collection of plastic films for recycling at kerbside, hopefully local authorities and waste management providers will have the confidence and assurance to adapt and invest in their collection schemes, to see the capture of more of these currently lost resources."
Plastic Recyclers Europe also underlines a lack of collection infrastructure as a contributing factor to the limited availability of sorted plastic waste at European recycling plants. Only 9Mt of plastic waste is thought to be sorted out of the 30Mt generated in all streams within and beyond the packaging sector, with a 20Mt gap thought to exist between the amount of waste generated and that which is put on the market.
Aditi Basu, marketing head at Future Market Insights, suggests that intelligent packaging solutions such as RFID tags, QR codes, barcodes, NFC, sensors, and indicators are solutions that some businesses are turning to in order to improve their collection rates. IoT, blockchain, and AI are also solutions that large packaging companies are anticipating for the future, she claims.
On a smaller scale, Greiner Packaging recently extended its cooperation with Plastic Bank in which Ocean Stewards in Manila are encouraged to collect plastic packaging from their local environment to be returned to the global supply chain, preventing them from entering the oceans at end-of-life.