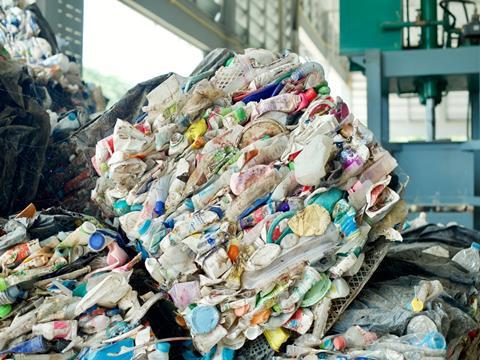 How might intelligent packaging emerge as a new frontier for plastic waste management? Aditi Basu, marketing head at Future Market Insights, explores how companies are using blockchain, RFID, and AI to enhance the collection, sorting, and recycling of plastic waste – turning it into a valuable commodity that can facilitate environmental and socioeconomic change.
Many governments and non-governmental organizations (NGOs) alike agree that single-use plastics account for a majority share in issues related to environmental stewardship. Ocean debris, damaged marine life, and congested landfills are all signs of a plastic management issue.
With plastic waste piling up on land and in the ocean, there has been a spike in interest in alternative packaging materials, such as paper, glass, and metals, which plastics have mostly replaced over the previous several decades. However, even when a considerable amount of recycled material is utilized, these plastic-free solutions often have a greater carbon footprint than conventional plastics.
While sustainable packaging is expected to stay at the top of consumers' concerns in 2022, debates around plastic reusability models and the future of throwaway plastics are likely to heat up.
To address this issue, packaging companies are introducing intelligent packaging that tackles plastic waste management, sorting, and collection issues, promotes circularity, and reduces the carbon footprint of their packaging. According to Future Market Insights' (FMI) report, 'Intelligent Packaging Market', demand for intelligent packaging will reach US$46.7 billion over the next decade.
Do we really need intelligent packaging?
The 21st century has witnessed an exponential rise in the adoption and usage of plastic packaging, thus generating tremendous amounts of waste. Plastic waste is now considered an environmental hazard; microplastics are now found in the deepest point of the ocean. Also, the increased production of disposable plastic items has stressed the world's ability to recycle and reuse.
As per the FMI's whitepaper, 'Intelligent Packaging for Circular Economy', developed in collaboration with Graham Packaging and Avery Dennison, around 9.2 billion tonnes of plastic have been manufactured globally, out of which only 9% is recycled.
Developing and lower-income countries are severely affected by plastic pollution as their recycling systems are generally low capacity. Developed economies have poor recycling rates and are struggling to recover abandoned plastic packaging. As of 2022, a quarter of worldwide plastic waste is incinerated while 40% is disposed of in landfills.
Top packaging manufacturers are striving to offer intelligent packaging choices that directly speak to consumers and educated them regarding how the plastic packaging should be used, how it can be reused, and how it can produce new streams of post-consumer recycled plastic packaging.
To curb plastic waste generation and tackle plastic trash collection problems, businesses are employing intelligent packaging solutions, such as RFID tags, barcodes, QR codes, NFC, sensors, and indicators. Opportunities in leveraging digital technologies are expected to arise, particularly when it comes to sorting plastic waste at consumer level. Packaging behemoths are anticipating the use of IoT, blockchain, and AI to improve plastic waste collection, logistical efficiency, data analytics, and customer experience.
Given that containers and packaging account for a significant component of municipal solid waste (MSW), accounting for 28.1% of total generation, sustainable packaging remains a highly profitable possibility.
Blockchain leading the war against plastic waste
Modern technologies are being developed to help with every stage of the plastic waste management process, from asset generation and appraisal to transfer and exchange.
To improve plastic waste collecting and recycling, companies are establishing a plastic bank in emerging economies that collects packaging waste and gives credits their blockchain-based app. Consumers can bring their plastic packaging waste to collection centres and receives credits on their blockchain, which can be accessed via smart contracts on their mobile device.
For instance, the Dutch start-up Circularise has developed a blockchain solution that gives an exact pricing system for any recycled material and can identify how many times the product has been recycled. In case of plastics, it provides information on recycled components to brand owners by utilizing both the Circularise system and a tracer developed by a third party.
The possibilities presented by blockchain are far-reaching. Blockchain being the facilitator of asset creation and transfer, this technology can connect each piece of plastic packaging with the customer, allowing it to be viewed as an asset with obvious monetary, social, and ecological worth.
For instance, Empower is using blockchain tokens to encourage donation-based recycling. They promise to clean up the equal amount of plastic garbage by weight for every Euro provided by an organization.
Blockchain also allows for the creation of a 'material passport' for each item, which contains valuable information about the features of the packaging, such as the material composition, the proportion of recycled plastics, the origins of the material, or even the number of times it has been recycled.
Finding solutions for effective waste management with RFID
RFID (radio-frequency identification) technology has shown considerable promise to help decrease packaging waste and enhance recycling. Through RFID tags, consumers can now access information regarding product usage, food storage, cooking instructions, and local recycling by embedding a low-cost inlay tag with a unique ID inside packaging.
RFID can also be used to incentivize the customer; for example, a smart recycling bin could count the number of objects placed in it and reward the consumer based on how much is collected. Promoting and rewarding positive behaviour will almost certainly be significantly more effective than the negative 'Pay to Throw' ideas that advocate charging for the volume of un-segregated waste.
Furthermore, kerbside deposit return methods might be created to pre-sort items according to their unique identity, lowering the possibility of plastic cross-contamination. RFID inlays might also be put on to black plastic food trays, which are routinely used for ready meals and cannot be separated using the near-infrared (NIR) sorting process now utilized at municipal waste recycling centres.
For instance, Avery Dennison has started an initiative called Algramo 2.0, which uses RFID chips for packaging waste collection. RFID tags are glued to the box, connecting the packaging to the user profile via the Algramo mobile app. These clever RFIDs are designed with great durability and functionality in mind to ensure a longer life cycle of the container, which translates into smooth circularity and a good influence on the environment.
Artificial intelligence – the key to plastic-free oceans?
A huge amount of today's plastic garbage is thrown into the oceans, wreaking havoc on aquatic flora and animals. Plastic ocean debris has reached alarming proportions and must be handled as quickly as possible.
AI robots might be quite useful in our efforts to clean up the ocean. AI-powered robots can be deployed to scour for plastic debris that has accumulated on the water's top or rubbish that has accumulated at the ocean's bottom.
These robots can be deployed in swarms, making the procedure both more productive and cost-effective. The AI system can also be taught to recognize and discriminate plastic garbage so that it may be collected for recycling without damaging marine biodiversity.
AI-powered robots equipped with computer vision technology may be taught to sort plastic garbage by modifying their algorithm. When compared with people, these robots can work quicker and longer, and they can sort plastic garbage more efficiently. AI powered robot has the potential to save between USD$120,000 and USD$130,000 per year.
The outlook for intelligent packaging
Today, out of every US$1,000 spent on packaging, around US$20 is spent on intelligent packaging and these numbers are expected to grow quickly. The global market for intelligent and sustainable packaging is experiencing steady growth driven by gradual but robust commercialization, with intelligent packaging expected to account for 5% of total packaging by 2030.
While intelligent packaging geared toward the circular economy tries to decrease the amount of packaging waste created, there is also a greater emphasis on decreasing recycling and reprocessing costs.
There are packaging firms that comprehend customer interests and are also connected with their choices. These organizations are leading by example by demonstrating the effective use of intelligent packaging solutions in addressing environmental and socioeconomic challenges.
The world is now provided with a big opportunity to leverage the potential of intelligent packaging to generate more tailored and individualized client experiences while maintaining sustainability.