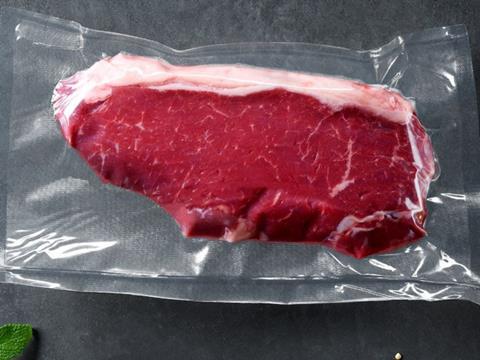 Klöckner Pentaplast and Dow are launching the kp FlexiVac R, a multilayered vacuum film for fresh food applications that has been certified as fully recyclable.
With certification from cyclos-HTP and Interseroh as 100% recyclable as PE, the specially-formulated film utilises Dow's FUSABOND technology with the aim of achieving high-quality performance and aesthetics while maintaining its sustainability credentials. It claims to be one of the most sustainable solutions of its type available on the market.
Due to its high tensile strength, the film is suitable for bone-in cuts of fresh meat and poultry; its hermetical seal is also expected to maintain food safety and protection throughout the supply chain.
Other perks are said to include high clarity, puncture resistance, easy printing for brand communication, and high performance in sealing and cutting. Peelable options are available where necessary.
FlexiVac R is available in thicknesses from 70 to 300 microns, and it is also available as a BASE film.
"We are delighted to see that the integration of our FUSABOND component brings recyclability to kp's FlexiVac value proposition," says Laurent Ziché, senior marketing manager at Dow. "Our Dow compatibiliser offering enables the recyclability of barrier films, which is the first step towards a circular economy for food packaging flexible films."
Retailers are increasingly turning to vacuum packs for their meat and poultry products; for example, Lidl aims to save an annual 250 tonnes of plastic by repackaging its beef mince range.
A similar move from Sainsbury's was met with criticism, however, with consumers complaining that the 'awful' new packaging is harder to recycle and impacts the quality of the meat.
On the other hand, Stora Enso's barrier-coated board material for barrier skin packs, Trayforma BarrPeel, is said to contain only 10% plastic materials, with the other 90% consisting of recyclable paperboard.
If you liked this article, you might also enjoy:
The Lidl approach to packaging sustainability
How did Brazil achieve its 100% aluminium can recycling rate – and can it be replicated in the EU?
Experts have their say on the EU's Packaging and Packaging Waste Directive revisions
A deep dive into the most important packaging sustainability trends and solution