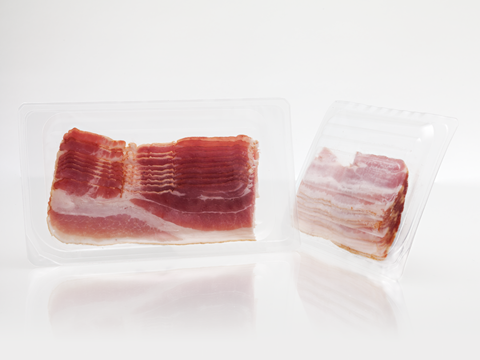 With its innovative new spray system, MULTIVAC is introducing a solution for packaging thinly sliced or highly sticky products that removes the need for conventional interleaving film between the slices of these products.
The new system can reportedly be integrated into existing slicer lines, and it is available with immediate effect for individual tests and product development in MULTIVAC's new Center of Excellence for Slicers & Automation Solutions.
Precision nozzles on the spray system atomise a liquid interleaving medium, which is both odourless and tasteless and can be tailored to the particular properties, (fat content, for example) of the sliced product.
It is applied evenly to the underside of the slices. The adhesion between the individual slices is therefore reduced, apparently with no effect on the product itself in terms of taste, smell, and colour.
"We want to offer Sustainable Liquid Interleaving to our customers as another innovation for the sustainable processing and packaging of their products. They are therefore invited to get an impression of our innovative solution in our new Center of Excellence for Slicers & Automation Solutions," explains Manfred Achenbach, senior vice president of the slicing business unit.
"There we will be conducting customised tests with their sliced products in order to develop a bespoke system, which is designed perfectly for the particular product characteristics and the requirements of their slicing solution."