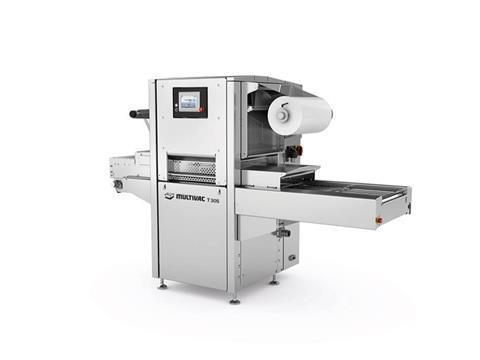 MULTIVAC has launched T 305, a fully automatic traysealer designed for packaging small and medium-sized batches for the food industry.
According to MULTIVAC, the new traysealer has been developed to produce MAP and vacuum skin packs in small- to medium-sized batches for a range of applications, including ready meals, convenience foods and snack, meat, cheese, fish, seafood, fruit, and vegetables.
Using a maximum format width of 420 x 300 mm, MULTIVAC says its T 305 traysealer can run a wide variety of trays made of paper fibre, board, plastic, aluminium, or foamed materials alongside a range of upper webs. The traysealer is apparently also compatible with more sustainable packaging materials, such as mono-films.
MULTIVAC claims that the machine is robust and enables a high level of output, while also ensuring pack quality with the gentle handling of trays. The traysealer can be designed with up to four tracks for maximum output of small trays, according to the company.
The company adds that the T 305 traysealer also offers energy-efficient systems and a machine construction designed for durability. During the development of the machine, emphasis was reportedly placed on ease of cleaning, user-friendliness, and safety.
MULITVAC says that the T 305 is simple to operate via its IPCO3 machine control with touchscreen. The traysealer is also prepared for use with other MULTIVAC Smart Services.
In addition, the traysealer's entire loading area can apparently be completely flushed through due to its cleaning flaps feature. The company claims that necessary recipe and format changes can be performed in a short period of time with maximum process reliability.
MULTIVAC notes that operators of the T 305 do not come into contact with hot die sets during everyday work, enhancing their safety. The company adds that the DT 305 die changing trolley allows format changes to be performed quickly, conveniently, and safely.
The company concludes that the new model is suitable for use in the food industry, as well as in supermarkets and large kitchens, such as at caterers, hospitals, or educational facilities.
MULTIVAC will be displaying the T 305 at IFFA 2022 in Frankfurt from the 14th to the 19th of May. The traysealer will be presented as part of a portioning line for retail packs at Hall 11.1, Stand B11.
Earlier this year, MULTIVAC expanded its traysealer range with three new additions to its TX8 series, offering optimised output for packaging types such as ready meals in large trays and enhanced digital solutions like RFID-coded dies.