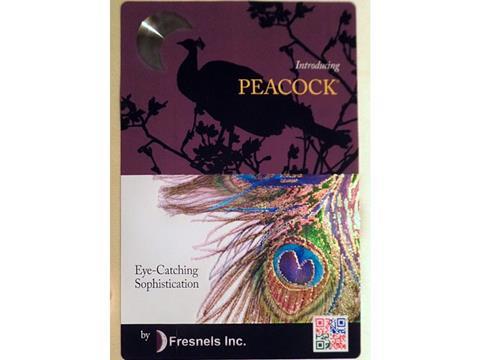 Dr Glenn Wood, COO of Fresnels Inc., considers the latest in high impact nanotechnology foils for brand packaging applications.
In the world of retail packaging, brand owners - and by extension the design houses that work for them - crave innovation. It appears that they're always on the lookout for new ways to make sure that their products stand-out to consumers and radiate that all important brand appeal - 'unseen means unsold', which signifies that the war for shelf space in retail outlets remains as hotly contested as ever.
It might even be said these people are messianic about the need for eye-catching design enhancements and added value appeal, and constantly apply pressure on printers and converters to show them engaging new features. And at the heart of the developments in this area is nanotechnology, which is having a profound influence on printing and packaging technologies and applications, particularly in the progress of advanced new printing materials and stamping foils.
Developments in foils have progressed so far that the latest generation from companies such as Fresnels Inc. can exhibit dramatic colour switching patterns, which in turn, create stunning new effects suitable for enhancing the appeal of branded packaging, especially folding cartons, opening up new horizons in the brand augmentation market and pushing the boundaries in contemporary design and thinking.
It could even be possible that these new stamping foils (hot and cold) now emerging will ultimately replace laminates as a way to add lens effects to labels and folding cartons for decorative impact. It's already been shown on labels how our colour changing foil can produce spectacular effects when used either alone or in conjunction with the lenses.
Indeed, at the recent Labelexpo Europe and LuxePack Monaco 2017 events, it was noticeable how many people commented on the foils and the similarity of the effect to that produced by colour changing inks (OVIs) and used on many currencies around the world including the US $100. In fact, Fresnel's colour switch, especially green to gold, is easier to see than the security inks and much easier to apply. Either hot stamping foil or cold foil can be used to apply the foil to paperboard or plastic, thereby enhancing product shelf appeal.
From the point of view of the 'path-to-purchase' in the retail environment, the positive effect of these nanotechnology foils will be seen on the shelves from a distance of a few feet. This is the raison d'etre for eye-catching, impactful packaging - its purpose is to distinguish the product from its neighbours on crowded shelves and draw in the prospective purchaser for closer examination. Retail studies and experts reveal that shoppers struggle to home in on the product they will ultimately buy and this is where the foil can feature, playing an important role in engaging consumers and ultimately securing additional sales volumes, brand strength and profit margins for the product owner.
Technologies such as the circular fresnel lens have proved enormously successful as an optical device for attracting attention but they do have their drawbacks: it has only been possible to create the lens effect in relatively thick laminate material, which can be expensive, and in Europe, its use has become somewhat limited through association with a particular brand of champagne, whose box uses the feature to great effect.
This is leading to innovation in technologies that can be applied by brand owners, printers and converters using standard foil application techniques, and which incorporate new optically attractive features that utilise core competencies in nanoscale engineering for visually exciting effects. Chief among these is the new 'Peacock' optically variable foil (OVF) nanotechnology.
This easy-to-use, robust and secure stamping foil has been inspired by the iridescence found in nature to deliver an arresting palette of colours and contemporary effects, which can be applied using standard foil application techniques. Providing a striking visual effect similar to optically variable inks (OVI), 'Peacock' foils can be applied quickly and easily without the requirement for registration equipment, saving time and costs in the process.
The nanotechnology, which is easier to see and apply than traditional security inks, reflects the naturally occurring colour variations seen in a peacock's tail feathers – a dramatic spectrum of colour changes running from iridescent greens to bright gold. The advanced colour change features captured in the designs using the foil are difficult to replicate and can therefore be adopted for use as an added-value, cost effective foil-based brand protection feature for product susceptible to counterfeiting and piracy.
The technology can also be used to produce pairs of highly saturated iridescent colours for added design impact, producing the striking visual signals of bright iridescent colours that are common in other creatures: hummingbirds, peafowl, beetles and butterflies.
These new technologies have to be seen as more than just another batch of consumables to add to the inventory of holographic foils, glitters and metallics to add bling to packaging. They are a game changing decorative effect, providing graphic and packaging designers with an entirely new tool to enhance branded packaging, especially for high-end goods already proud of the presentation of their products.
Because 'Peacock' is available in either transparent or fully metallised versions it offers new opportunities to the printing industry to apply the effect either under the print (metallic version) or above the print (transparent version). Both methods open new graphic vistas for melding fixed colour print with angular variability of colour in visually stimulating ways.
Fresnels Inc. is privately funded and led by technology providers with 100 years of combined expertise in the commercialisation of optical microstructures. Its technology is supported by customer services, technological excellence and experience in relationship building in key markets.
More info: