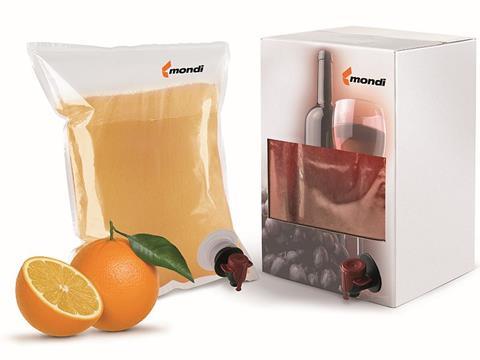 Mondi Styria have launched a pair of next-generation films developed for multilayer BIB products used to package liquid food products and more.
Styria Form Bar 50
"We have now determined it is possible to replace the usual 66- or 70-micron coextruded barrier film structures with a 50-micron coextruded barrier structure, and we are the first company to be able to offer such a product," explains Günter Leitner, managing director at Mondi Styria. "Downgauging in this manner results in the use of about 25% less material while also reducing transport weight and hence the overall carbon footprint."
A current customer is already running trials of this new product, and says it has experienced no negative impact on machine performance and that no equipment changes have been needed to successfully run the film, Leitner notes.
Styria Form Bar 90 DW
Separately, Mondi now has also found a way to combine what is the industry-standard, two-ply Bag in Box constructions comprising a 70-micron coextruded barrier layer plus a 40-micron polyethylene layer into one film that measures only 90 microns thick – a reduction of nearly 20%. Mondi successfully combines the properties of both PE-Film and barrier film in one 90 microns thick coextruded barrier film.
"Mondi, once again, is the first and only supplier of technical BIB films able to offer this kind of extruded film, which enables our customers to create mono-ply instead of two-ply bags," says Leitner.
In addition to the previously noted sustainability advantages, this latest innovation greatly simplifies matters for customers, eliminating a step from the converting process, and allowing users to buy and store only one type of film instead of two.
Customers also will benefit from reduced machine setup time due to having to change out only two reels instead of four, and having to change two reels less frequently. All of this translates into greater productivity for the converter.
Additionally, both new films are suitable for both hot-fill (up to 85ºC) and cold-fill applications, again offering increased convenience and flexibility to the users."These advances continue to raise the bar, to the benefit of our customers," says Leitner, "and we will continue to strive to increase the functionality, performance and convenience of our technical films to improve the users' experience."