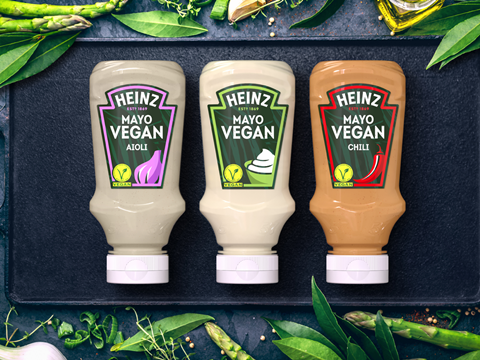 Kraft Heinz has collaborated with PB Creative on the packaging design for its brand-new range of vegan condiments.
PB has created a range design that seeks to play to premium vegan category codes whilst evoking superior taste and flavour appeal, based on the non-artificial nature of the ingredients. The dark green background provides a canvas to hero the key flavour ingredients, while a crafted leaf illustration delivers natural ingredient cues.
With greater awareness of the environmental impact of our food choices and a growing number of consumers turning to plant-based diets either permanently or regularly, Kraft Heinz hopes to take advantage of a changing food landscape.
It is the company's view that, while the plant-based category is well-established, it sometimes lacks excitement, quality and flavour. It has therefore chosen to create a new range that apparently delivers on great taste but is also aligned with consumers' health, environmental and ethical concerns.
"Our aim was to elevate and reinvigorate the vegan experience and remove the perceived blandness from the category," says Lloyd Moffatt, creative director at PB Creative.
"We wanted to create a confident and assertive range aesthetic that communicated flavour at the very heart of the proposition while still reassuring consumers on the vegan nature of the product."
Hannah Winterbourne, Kraft Heinz's international brand manager, added: "Consumers shouldn't have to compromise on quality and taste when they're making plant-based choices.
"Our new vegan mayo range will bring flavour excitement to our consumers' plates as well as making them feel good about the choice they've made. PB has created a striking, premium range design that cuts through on-shelf as well as delivering on taste appeal and championing our new flavours."