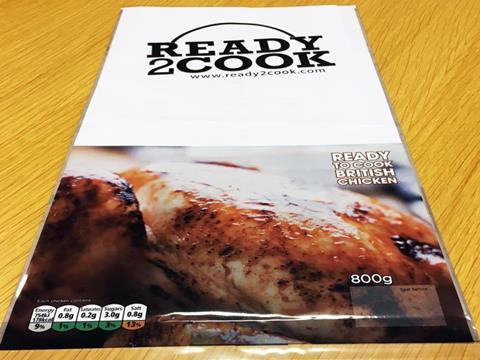 Food packaging specialist KM Packaging Services Ltd has extended its range of ovenable films with new features and benefits for food manufacturers across the world.
KM Packaging originally developed the Superguard line in response to the growing demand for home cooked-style convenience food which combines quality ingredients with convenience and minimal preparation. With increasing consumer focus on food safety, KM's new ovenable flow wrap products ensure foodstuffs can make it from supermarket shelf to plate without needing to be directly handled.
The enhanced films are suitable for oven or microwave cooking, comfortably withstanding temperatures up to 225 degrees Celsius (435F). Manufactured from polyester based laminate with innovative ovenable adhesives and inks, the films can be printed using high definition flexo technology, thus improving on-shelf appearance and reducing packaging waste. Like all of KM's technically superior product lines, the extended range has undergone rigorous testing to ensure the safety of the cooked food it contains.
The films are designed for use on flow-wrapping machines or can be supplied as pre-made bags, enabling food manufacturers to easily seal whole meal and portion controlled meat, fish and sauce based products into a pouches suitable for conventional ovens. Products can go straight from the chiller cabinet or freezer to oven and will also safely self-vent steam during cooking without the need to puncture the film. The ovenable range is credited with speeding up preparation and cooking times, reducing cooking odours and also retaining moisture in the products as they cook. Meats and fish packed with sauces also effectively allow the contents to marinate while packed and during cooking.
Graham Holding, KM Packaging Services commercial director, explained: "Superguard has always been one of our flagship ranges, popular with retailers and consumers alike. Eating habits are evolving as people have less and less time to spare for meal preparation, but don't want to sacrifice valuable family time around the table. That's why packaging solutions like our ovenable films are always in demand, providing simple, clean preparation, reduced cooking times and clear, attractive packaging. And now, with an extended range of top quality films there are even more reasons to specify KM products."
More info: