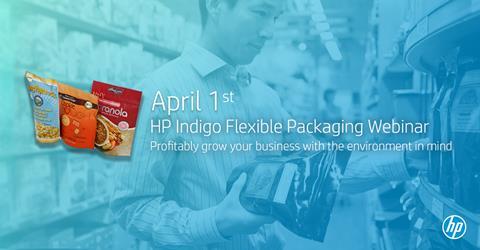 Look around you, plastics is the new enemy. Brands, retailers and consumers are demanding we change the way we pack today. Waste reduction, recyclability and composability are turning from buzzwords to business fundamentals.
And yet sustainability is not the only megatrend impacting the flexible packaging industry. Consumer preferences are changing, driving an increase in personalisation, versioning and packaging formats. CPG and retailer margins are being compressed and e-commerce is set to alter the way business is done.
Is your business set up to embrace the change?
HP Indigo digital print offers a solution to profitably address market needs for sustainability, while opening up new opportunities for differentiation and growth.
Join HP to find out how, in the HP Flexible Packaging webinar on Monday 1 April from 16:00 to 17:00 CET.
In the webinar HP will cover:
How HP Indigo digital print offers a unique advantage for SUSTAINABLE production of flexible packaging
Showcasing how converters today are driving DOUBLE DIGIT PROFITABILITY using lean, just in time production concepts, through REAL case studies
How you can produce and change on the fly multiple version jobs, through a LIVE production challenge at our Graphics Experience Center in Barcelona
Register now, for a live broadcast and Q&A session, or view later at your convenience.Learn how to profitably grow your business with the environment in mind.
Register
Register here and get your automatic reply confirmation to join on the 1 April.