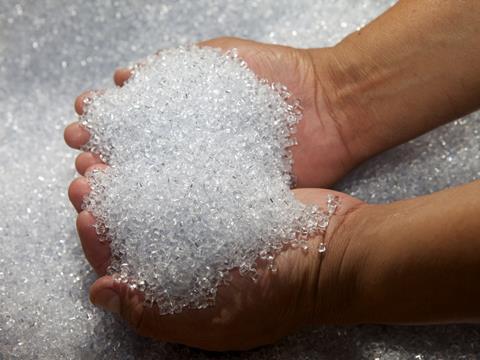 Repsol has revealed its range of ISCC PLUS certified circular EVA copolymers – reportedly the first of their kind on the market – and aims to help establish a circular economy for polyolefins, alongside lowering its own virgin raw material consumption.
Marketed under the Repsol Reciclex brand, the range claims to feature the first EVA copolymers to incorporate 100% circular AV from chemical recycling. It is certified under the ISCC Plus mass balance approach and is set to complement Repsol's conventional EVA range, Repsol Primeva.
In a bid to divert waste from landfills and incineration plants, Repsol apparently sources the raw materials used to produce the Reciclex copolymers from various waste streams that utilise specific recycling processes. This is said to result in a net carbon footprint material and a "cradle-to-grave" alternative to using virgin materials.
It is expected to be especially beneficial for EVA applications that cannot be mechanically recycled due to their properties and end uses. Repsol states that the chemically recycled copolymers are suitable for contact-sensitive applications like cosmetics, healthcare applications, or food-contact products.
By 2030, the company aspires to recycle the equivalent of 20% of its polyolefin production. Additionally, it seeks to reduce emissions stemming from the materials it manufactures and lower the carbon footprint of polyolefins in line with its target of achieving net zero emissions by 2050 – both of which are goals that the new range is expected to contribute towards.
The materials were developed and tested, and are now produced, at Repsol's Industrial Complex in Puertollano, Spain.
Copolymers have been implemented into various recent packaging developments. Random polymer grades of SABIC's PP QRYSTAL copolymer have been utilised by Estiko Packaging Solutions to create an ISCC PLUS-certified pouch for Coldwater Prawns of Norway's frozen prawns.
SABIC also worked with Mars Petcare and Huhtamaki to incorporate a certified circular impact copolymer into retort pouches for wet pet food packaging – a development nominated for the Sustainability Awards 2022.
In other news, SABIC has worked with Aramco and TotalEnergies to create a domestic value chain for the advanced recycling of plastics into circular polymers in Saudi Arabia by converting oil derived from plastic waste into ISCC PLUS certified circular polymers.
If you liked this article, you might also enjoy:
The Lidl approach to packaging sustainability
How did Brazil achieve its 100% aluminium can recycling rate – and can it be replicated in the EU?
Experts have their say on the EU's Packaging and Packaging Waste Directive revisions
A deep dive into the most important packaging sustainability trends and solutions