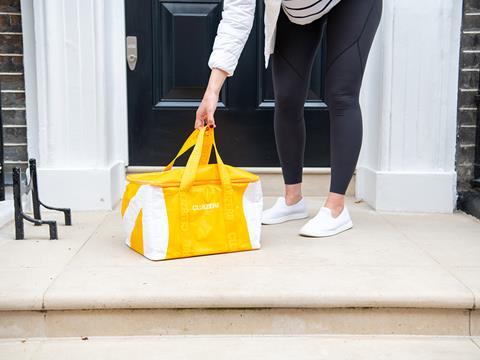 Increasing pressure to limit single-use plastics from consumers as well existing and upcoming legislation has given rise to an influx of reuse solutions in recent years. Many of these have been in the space of takeaway packaging for food and beverages. At the same time, the number of people opting for takeout in Europe rose during the pandemic, with consumers reporting that they would continue to order takeaway after the pandemic was over. What are some of the available solutions in this area today, and how can consumers be encouraged to participate in them in practice?
Convenience is an obvious and important factor in increasing the uptake of reusable solutions. Consumers often opt for takeaway food and beverages because they are quick and accessible, so it follows that reuse solutions would need to fit these criteria as well to be effective. According to Tracy Sutton, founder and lead consultant at the environmental consultancy Root, convenience is central to the success of reuse solutions.
"Takeaway consumption happens impulsively and if something takes longer, is more effort or interrupts that impulse, it becomes a problem," Sutton said. "Collection, cleaning and refilling need to be as simple, pleasurable and convenient as the purchase itself," she added.
Safia Qureshi, founder and CEO of reusable packaging solution company CLUZBERØ, said that the return process can be a source of worry for customers. "We understand that this is a concern for our consumers which is why we don't just fixate on the design of the reusable packaging, but think about the entire return system," Qureshi said. "Our drop points are a fundamental piece to providing an end-to-end system that consumers find simple and enjoy taking part in."
CLUZBERØ gives consumers the option to opt for reusable packaging for in-store, takeaway, or delivery of hot or cold food and beverages. Customers shop from the nearest location that has adopted the CLUZBERØ system or order online using Just Eat/ Just Eat for Business. Within seven days of consuming the food or drink, they must return the packaging to one of the yellow CLUZBERØ boxes or bags that are dotted around the city, or arrange to have it picked up from their house for a fee using the company's app. The packaging is then collected from the host locations and taken to a wash depot to be cleaned.
"We have launched in London and Palo Alto across in-store, takeaway and delivery for clients including Just Eat, Nestle, Camden Council, King's Cross, Google, catering companies Baxter Storey and CH&Co and Next-Gen Consortium brands (Starbucks, McDonald's, and Coca-Cola) and more," Qureshi explained. "To date we have completed over 1.1 million orders, saving 2.2 million single-use plastic items from ending up in landfills."
According to Qureshi, the response and engagement from consumers has been positive. "We've achieved a 95%-99% return rate for our packaging which is well above industry standards," she said.
Another consideration that consumers grapple with when it comes to reusable packaging is hygiene. This may also be heightened by residual fear from the early days of the pandemic when information about the transmission of the virus was unclear.
"There is no denying that reusables can be met with a bit of an "ick" reaction, knowing that the container has been used before," explained Beth Massa, CEO of reusable packaging company Ozarka. "We completely understand that, but we might ask someone to imagine dining at a restaurant," she said. "We employ higher hygiene standards and practices than restaurants." Similarly, CLUZBERØ said that its reusable packaging is washed to ISO standards.
According to Massa, Ozarka offers "packaging-as-a-service to made-to-order food vendors," collecting, cleaning, and redistributing the packaging used by consumers. "We work with takeaway, delivery, events, festivals, stadiums, and corporate caterers," she said.
Consumers are accustomed to using cutlery and plates that have also been used by others before them at restaurants, which Massa suggests helps limit any fears around cleanliness. She argued that shifting the mindset around reusable packaging is an important step towards helping consumers overcome potential hygiene-related hesitation.
Massa also suggested that the success of reusable packaging depends on how closely it resembles disposable packaging in terms of convenience and functionality. "It must be nestable, stackable, leak resistant, and microwavable," she explained. She went on to add that the lids need to snap shut quickly and that the shape and size of the packaging should be compatible with the type of food it is meant to hold.
Returning packaging for reuse
Keeping the packaging in the loop is crucial to ensuring that reuse solutions do not unintentionally exacerbate the issue of waste instead of providing a solution to it, according to Sutton. "Low loss rates are imperative to ensure that they system as a whole actually reduces impact," she said, "rather than increases it because a higher impact item has been lost, littered or taken home."
In Massa's experience, consumers "almost always" return packaging after they have used it. "There is always room for improvement, but it has actually been much less difficult to get containers back than anyone could imagine, even us," she said. "Most of the time, when someone doesn't return a container, it's just gotten lost, or they didn't know it was reusable." She argued that communicating the process clearly with customers could help tackle this issue.
Even when the packaging is not returned, it can be used again by consumers at home if it is made of durable materials. This has been the case for a lot of the packaging provided by Swiss company reCIRCLE. The founder and CEO of the company, Jeanette Morath, explained that it is common for customers to not return the packaging after its initial use, choosing instead to reuse it for takeaways or leftovers.
"As they are high quality, they are used in private, which makes us very proud," she said. "As we work with flat rates with the restaurant partners, a BOX can be returned even after years within the network." Additionally, reCIRCLE's packaging has a significant deposit to ensure that consumers do not keep the packaging only because it is inexpensive to do so.
Having a large network of businesses that have adopted a reuse solution is important to increase customer participation, according to Morath. "We have found out that lots of customers always go to their favourite three restaurants," she said. "If all three are reCIRCLE partners, then the customers will switch." It is more difficult to get consumers to experiment with reusable packaging initially than it is to get them to stick to reuse once they have become involved in it, she argued.
The future of reusable takeaway packaging
Consumers are interested in sustainable solutions, even if this comes with a higher price tag. A YouGov poll from last year showed that, when asked if they would pay more for products that are better for the environment, the majority of respondents from countries like Germany, the US, the UK, and Australia responded that they would. Simplifying reuse solutions appears to be a key step in getting customers to take that extra step of returning their takeaway containers.
"An increase in the number of actions / behaviours required for something that is new is discouraging for the public," Sutton explained. "They need a good incentive as to why they should change their behaviour, try something new and go out of their way," she added. "For reuse, there is a system that citizens need to play a part of – i.e., collection, refilling, cleaning or delivery – brands need to work harder at understanding the values and drivers for their customers and design the system to specifically align with their values and lifestyles."
Reusable packaging company Vytal uses gamification to help consumers return the packaging after use. Through its app, the company is also able to nudge consumers to remind them when the time has come to return the packaging.
Consumers do not have to pay a deposit initially, but they are required to pay a four-euro fee for an unreturned cup, which goes up to 10 euros for a bowl. "Studying the German deposit system, we had the advantage of learning from a long tradition of reuse and could use modern technology… to achieve a 99.3% return rate in our system," said Sven Witthoeft, co-founder and managing director at Vytal.
But according to Massa, getting consumers involved with reuse solutions is not as difficult as getting caterers and restaurants onboard. "They are overworked, understaffed, margins notoriously thin, [and] storage space is always constrained," she said. "Asking a food vendor to change their processes, even when they really believe in reducing waste, is much harder than swaying consumers." To get reusables to consumers demanding more sustainable solutions, it is important to first understand and address the concerns of businesses.
Convincing packaging producers of the potential and economic viability of reuse solutions is also key in encouraging a shift to reusables, Sutton explained. "99% of today's packaging producers have a business model that is driven to succeed from the production and manufacture of single use packaging," she said. "Producers needs a sound (sales) evidence base from brands to be reassured that pivoting their business model will result in economic growth."
The level of impact that a reuse solution can is largely dependent on whether it can be scaled. Achieving this depends on whether the correct infrastructure to produce reusable packaging at scale is available.
"We have some great materials that perform really well for reusable packaging, but most conversion/ production methods have been developed to make lightweight, disposable packaging commercially viable at scale," Sutton said. "The sector needs investment for new infrastructure that unlocks commercial viability for reusables which inevitably will have lower production volumes because they are designed to last much longer," she added.