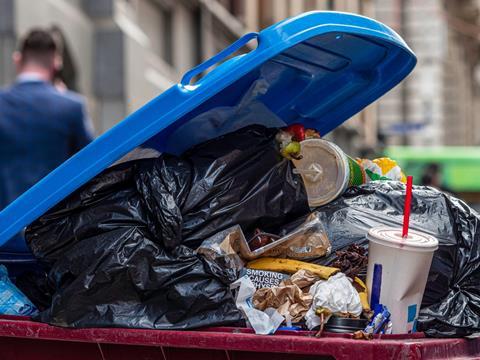 A new report released by GAIA asserts that the worldwide implementation of 'zero waste' systems in urban settings would reduce greenhouse gas emissions by 1.4 billion tonnes, equivalent to the annual emissions of 300 million cars, and lays out the groundwork for a carbon-efficient future.
With the waste sector allegedly contributing to 20% of global methane emissions, introducing zero-waste systems would reportedly be the fastest and most affordable way to remain below 1.5°C of global warming as per the Paris Agreement, and would have a greater impact than taking every car in the European Union off the road for a year.
The report also claims that managing waste appropriately could cut the sector's emissions by 1.4 billion tonnes, or 84%, and simultaneously reduce emissions in other sectors.
To meet that target, GAIA encourages food waste prevention and the banning single-use plastics; the creation of separate collection and treatment systems for organic waste; and the establishment of institutional frameworks, from legal regulations to outreach programs.
It raises Lviv, Ukraine as a positive example, noting its separate door-to-door waste collection systems and waste prevention programs spanning from single-use plastics to sanitary products.
Furthermore, the report recommends financial solutions – for example, subsidies to recycling and composting, and investment in waste management systems, recycling, and composting capacity.
"Better waste management is a climate change solution staring us in the face," said Dr. Neil Tangri, co-author of the report. "It doesn't require flashy or expensive new technology - it's just about paying more attention to what we produce and consume, and how we deal with it when it is no longer needed."
"Previous climate talks have largely overlooked the potential of reforms to the waste sector, particularly for reducing methane, which over 100 countries have now pledged to do," added Mariel Vilella, director of GAIA's Global Climate Program. "We now have a unique opportunity to put waste firmly on the agenda.
"Zero waste strategies are the easiest way to rapidly and cheaply bring down emissions while building climate resilience, creating jobs, and promoting thriving local economies."
With food and beverage companies offering takeaway services to resume business during the COVID-19 pandemic, packaging was in high demand. We previously investigated the ways in which reusables could continue to benefit the industry going forward.
Indeed, the pandemic was identified by Tyler Chaffo, global sustainability manager at Avery Dennison, as a major contributor to packaging waste in 2021. To reduce it, he recommended a focus on supporting infrastructure for waste sorting systems, amongst other things.
Plastics for Change founder and CEO Andrew Almack recently spoke to us about the organisation's aims to refine waste collection systems in the informal economy.