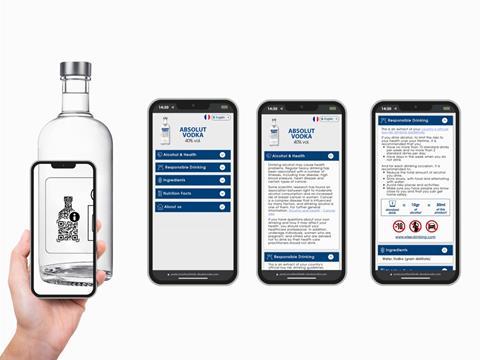 Pernod Ricard is set to roll out a digital label system across its wine and spirits brands with QR codes that consumers can scan with their smartphones to access information on ingredients, nutritional values, and responsible alcohol consumption.
Pernod Richard says it will launch a European pilot programme for the digital label solution in July 2022. As part of the pilot, Pernod Ricard brand bottles will reportedly carry their own QR code on the back label that, once scanned with a smartphone, will redirect consumers directly to a platform where they will be able to access relevant information on each product.
According to Pernod Richard, this information will include a list of ingredients and full nutrition facts for each of its products in partnership with European wine and spirits associations. The digital platform will apparently also offer information about the health risks associated with consuming alcohol, as well as responsible drinking guidelines issued by governments, including guidance on who should avoid drinking alcohol.
The company adds that all the available content will be adapted to local specificities, with country-specific drinking guidelines and a range of languages offered.
Alexandre Ricard, chairman and CEO of Pernod Ricard, comments: "As a consumer-centric company committed to responsible drinking, this new digital label system strives to respond to our customers' evolving needs.
"Now more than ever, consumers want to know what is in their drinks. Thanks to digital technology, this information can now be accessed easily.
"I am proud that Pernod Ricard continues to be an industry pioneer in spearheading such a proactive initiative."
The digital label system is expected to be rolled out globally across Pernod Ricard's portfolio by 2024.
In 2021, Pernod Ricard added two warning pictograms to its packaging to warn against underage drinking and drink driving, complementing its pre-existing warning logo about drinking when pregnant. The company says that the label solutions support the International Alliance for Responsible Drinking's commitments.