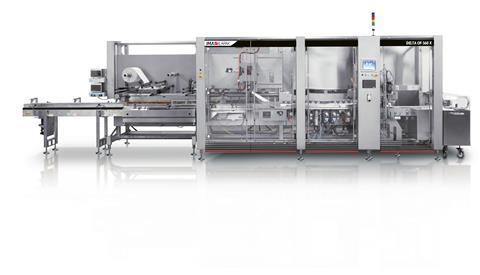 Next in our Finalist Interview series for the Sustainability Awards is IMA Ilapak with its Delta OF-360 X wrapper. We spoke to the company about this entry, nominated in the commercialised Machinery category.
You're a finalist in the Sustainability Awards 2023. Congratulations! To start off, could you summarise your entry, in less than 50 words?
The Delta OF-360 X can run any packaging films, from paper-based films to complex laminates and recyclable mono-polymer films, with changeovers effected simply by pressing a button on the machine's HMI (Human Machine Interface).
Why do you think the judges were impressed with your entry? Tell us about what is innovative about your project and/or about its impact on packaging sustainability.
At a time when the future direction of sustainable packaging is fluid and uncertain, this HFFS (Horizontal Form Fill Seal Machine) solution gives manufacturers and packers total flexibility to switch easily between different substrates - whether they already exist or have yet to be developed.
From a film tube forming perspective, paper-based films require gentler handling and a longer, more gentle folding section than plastic films. The Delta OF-360X incorporates a new universal patented folding box system that prevents paper films from tearing or microbreaking whilst providing the precision control that plastic films require during the forming operation.
As well as future-proofing factories to keep pace with packaging material changes, the Delta OF-360 X insulates manufacturers against energy price rises. The machine is built on IMA ILAPAK's new full-electric flow wrapping platform, which uses on average 37% less power than a conventional flow wrapper. IMA ILAPAK's engineers have achieved these efficiency gains by replacing energy-intensive pneumatic applications with highly efficient linear actuators.
How has your innovation/initiative been received?
We exhibited this new flow wrapping technology for the first time at interpack 2023 and saw tremendous interest from visitors, both from prospects, customers and industry insiders.
It was very well received and potential customers particularly appreciated the concept - flexibility in handling any film on the same platform and ease of use - the result of 7 years of experience on sustainable wrapping materials acquired through machine tests in our dedicated area and analysis in our lab, based in Lugano (in Switzerland).
This lab is one of 4 operational sites of IMA OPENLab – together with labs in Bologna (Italy), Arezzo (Italy) and Lowell (USA, Arkansas); the Group's network of technological laboratories and testing areas dedicated to research on sustainable materials, technologies and production optimisation processes. OPENLab represents a pillar of the IMA ZERO project, which is the company's sustainability program aimed at reducing its environmental impact in industrial manufacturing.
It falls under the No-Plastic Program (NOP), one of the four main categories into which IMA ZERO is divided, together with the Low-Plastic Program (LOW), E-MOB (Sustainable Mobility Program) and YOU (Human-Centric Program).
You're shortlisted for the Machinery category. What do you see as the key sustainability demands and challenges confronting the engineering for converting and packing?
Increase performance by reducing energy consumption, guarantee production efficiency with advanced systems, search for reliable technologies to meet current producers and converters needs, develop and validate packaging technologies that allow the use of sustainable films in order to broaden the spectrum of materials for converters - thus going in the direction of having simpler and easier to recycle and less expensive materials.
What do you think are the main opportunities in this area or what future innovations do you predict in this area?
We have tried to anticipate future industry needs designing the Delta OF-360 X, a flow wrapper conceived and manufactured specially to give manufacturers and packers total flexibility to switch between different substrates - whether they already exist or have yet to be developed.
The winners of the Sustainability Awards 2023 will be announced at the Sustainable Packaging Summit, which takes place in Amsterdam on 14-15 November. The Summit mobilizes leaders of the FMCG value chain, policymakers, NGOs, recyclers and investors to collaborate, remove barriers and identify opportunities on the road to sustainable transformation.
To learn more or register, visit https://www.packagingsummit.earth/amsterdam2023/.