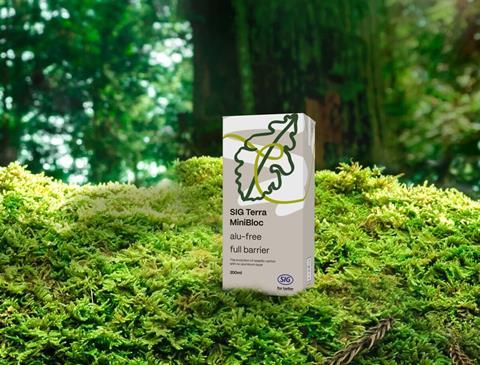 As part of our Sustainability Awards Finalist Interview series, we spoke to SIG about its 'Terra alu-free + Full barrier' packaging material for aseptic cartons, nominated in the commercialized Climate category.
You're a finalist in the Sustainability Awards 2023. Congratulations! To start off, could you summarise your entry, in less than 50 words?
SIG launched the world's first aluminium-layer-free packaging material for aseptic cartons, with full barrier properties comparable to standard structures with an aluminium foil layer. It is suitable for oxygen sensitive and insensitive beverages, combining a high renewable share, a low carbon footprint and design for recycling.
Why do you think the judges were impressed with your entry? Tell us about what is innovative about your project and/or about its impact on packaging sustainability.
Our innovative solution addresses multiple concerns from brand owners and consumers related to their impact on the planet. Packaging designed for optimized recycling paves the way into an alu-free future for aseptic cartons, making the recycling process even simpler and more efficient, and lowering the packaging's carbon footprint by removing the most carbon-intensive component, aluminium.
It enables better access to healthy nutrition and food waste reduction, even in countries with complex supply chains. Aseptic technology is now available with full barrier performance for oxygen sensitive products such as fruit juices and plant-based beverages.
Our innovation roadmap is developed by listening not only to the great ideas of our R&D [research and development] teams but also by listening and collaborating with global brand owners to help them reach their sustainability KPIs [key performance indicators] such as recyclability and net zero targets.
How has your innovation/initiative been received?
What truly impressed us is that this innovation has global appeal. Customers in every continent have expressed interest and are currently qualifying or evaluating a future qualification of SIG Terra Alu-free + Full barrier (formerly called SIGNATURE EVO).
You're shortlisted for the Climate category. What do you see as the key demands and challenges in relation to reducing carbon emissions from packaging and packaged goods?
To scale up more sustainable, low-carbon packaging options quickly, you need two things: packaging innovations with proven CO2 reduction and further sustainability benefits, and the ability to run these options on the installed filler base.
SIG can offer both. Our SIG Terra portfolio offers a whole range of innovative, more sustainable, and lower-carbon packaging options. The single most important lever to reduce the carbon footprint of aseptic carton packaging and pave the way for a simpler and more efficient recycling process is eliminating the aluminium layer.
SIG has been the pioneer of alu-free aseptic cartons since 2010 and has the flexible filling technology to scale up more sustainable packaging options quickly. Our unique sleeve-based system and ultrasonic sealing technology offer maximum flexibility on the choice of barrier materials that we can run on our installed base, including all aluminum-layer-free options.
What do you think are the main opportunities in this area or what future innovations do you predict in this area?
The next game changer will be raising the fibre proportion of aseptic carton structures. SIG is committed to developing a full-barrier aluminium-free aseptic packaging structure with at least 90% fibre content by 2030, to ultimately enter the paper recycling stream. This supports SIG's ambition to enable carton packs to be fully and easily recyclable, anywhere in the world.
The winners of the Sustainability Awards 2023 will be announced at the Sustainable Packaging Summit, which takes place in Amsterdam on 14-15 November. The Summit mobilizes leaders of the FMCG value chain, policymakers, NGOs, recyclers and investors to collaborate, remove barriers and identify opportunities on the road to sustainable transformation.
To learn more or register, visit https://www.packagingsummit.earth/amsterdam2023/.
If you liked this article, you might also enjoy:
The L'Oréal approach to packaging sustainability
What steps is Apple taking to make its packaging more sustainable?
How did Brazil achieve its 100% aluminium can recycling rate – and can it be replicated in the EU?
Experts have their say on the EU's Packaging and Packaging Waste Directive revisions