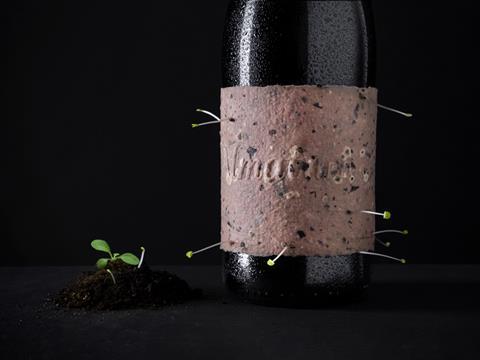 On Earth Day, April 22nd, Pentawards caught up with members of its Sustainable Design Jury to hear about the latest innovations and collaborations they are keeping an eye on, and insights on how to design sustainably.
As an annual celebration to demonstrate support for environmental protection, Earth Day is a great opportunity for businesses, consumers and designers to share their love for the planet, and what they are doing to support it.
In 2021 we launched our Sustainable Design Jury for our competition, alongside our Sustainable Design category which is sponsored by UPM Raflatac. Today we speak with members for some insights.
Bio-based materials and collaborations
Marta Suslow, Sustainability Expert and ex-Beiersdorf
Despite my previous skepticism towards biopolymers, I am now actively seeking out Shellmer, a product created by Shellworks. Their premier product, Shellmer, seems to be the most environmentally-friendly bio-based packaging plastic that I have read about so far. It meets all the desired criteria for a perfect bio-plastic, as it can be fashioned into thin films that dissolve in hot water and can be used as fertilizer when disposed of.
I strongly believe that sharing knowledge, building communities, and forming partnerships is essential for achieving truly reusable packaging and harmonized metrics. In this regard, I recently learned that the World Economic Forum's Global Plastic Action Partnership (GPAP), the Ellen MacArthur Foundation's Plastics Initiative and WRAP have collaborated to exchange knowledge and promote global progress in addressing plastic pollution. This collaboration is particularly encouraging since I believe that the 2025 goals are at risk.
However, I also hope that we can establish a global venture capital and design agency in the future. Such an agency could work together with startups and established suppliers to develop global reuse standards and bring these cost-efficiently to the market. This effort could contribute to achieving truly harmonized metrics and advancing progress toward our sustainability goals.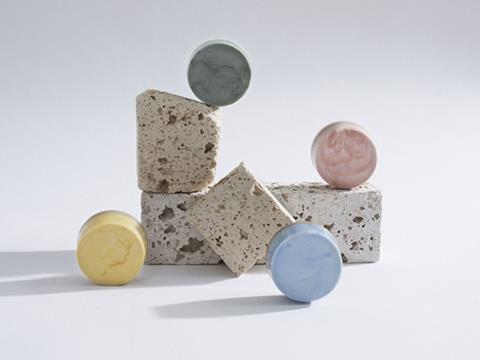 Key steps for sustainable design
Jenny Greenwood, Sustainability & Innovation Manager at Butterfly Cannon
When it comes to sustainable design, the first key element for brands to focus on is to make it simple. Sustainability is a minefield, and different stakeholders will have their own opinion about what the priority is. So breaking things down into easily digestible, bite-size chunks is the key.
It's the reason we created our Conscious Design process - to bring clarity to this complexity through a simple step-by-step process with our Climatic Table at its heart - a matrix of 28 distinct sustainable elements, which allows us to visualize and discuss what the different priorities and options are with our clients.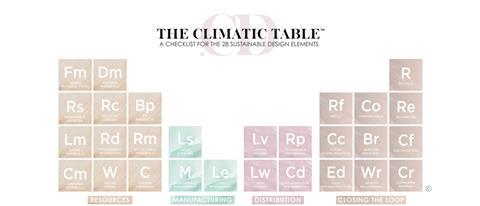 Butterfly Cannon's Climatic Table
Another key element is to be open. Make thoughtful and informed decisions from the start and be open about their implications, in order to reach agreement with all stakeholders.
Draw up a roadmap. You cannot do everything overnight. It takes time to make change.
Think systemically - you are part of a bigger picture. Do not see design as a silo, you are in a partnership with the other departments such as marketing and production. What you decide to do will have an impact not only on sales but upon your sustainable footprint.
We recently helped develop a whiskey brand using this thinking. The brand - an artisanal Indian single malt called Godawan - was built around the purpose of saving Rajasthan's endangered Godawan bird from extinction, with every bottle sold contributing to conservation efforts.
The whisky is created in an Alliance of Water Stewardship-certified and water-positive distillery, using barley that has been sourced locally. The bottling supplier was local, the glass weight was minimised for the category, the paper labels were FSC certified with a high percentage of recycled content and the carton-board outer was produced with Diageo India's first locally sourced FSC stock.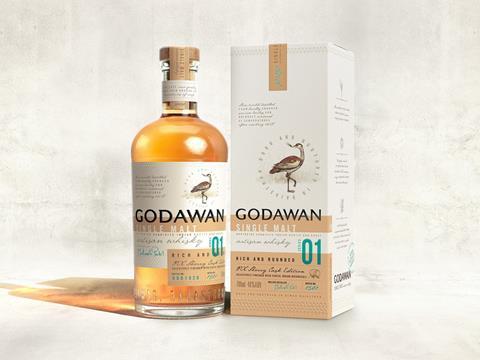 Godawan Artisanal Indian Single Malt Whisky, Butterfly Cannon
Whilst working on a sustainable design, it's worth keeping an eye on recent advancements in the sustainability space too. Some of these that we are keeping an eye on include:
Biomaterial development and materials inspired by nature
Such as orange fibre and algiknit (or 'seaweed wool') being used as yarns within H&M clothing. Or Stella Mcartney's use of Mylo a sustainable leather alternative made from mycelium, the root-like system of mushrooms.
AI & digital influence
Many fashion industries are making use of AI eg. 3D knitted garments which use material mapping to ensure no material is wasted in the product manufacturing process. This approach could be utilised in the packaging industry;we're already seeing this with companies like Kurz and their digital foil.
Rental systems
We are already seeing an increase in returnable or refillable packaging, but this could go even further by taking inspiration from other industries eg. Hurr's fashion rental, Netflix, Uber's Lime Bike rental
Transparency
Being open and honest about all elements of your brand eg. Guerlain's 'Bee Respect' traceability platform.
The importance of sustainable labeling
Robert Taylor, Sustainability Director at UPM Raflatac
A product label is a critical driver of the packaging brand experience, and the sustainability of the label choice is integral to the circularity and climate performance of the package.
Companies have a lot of reasons to make their product packaging increasingly sustainable: consumer demand, regulatory pressure, and the opportunity to drive long-term brand value. But how? Label choice is often not the first question when designing new packaging, but it can have a monumental impact on overall sustainability. A label can have an impact on the whole package greater than the label on its own. Also with the high volume of consumer goods sold daily, the impact of labels builds up.
Companies have a lot of reasons to make their product packaging increasingly sustainable: consumer demand, regulatory pressure, and the opportunity to drive long-term brand value. But how? Label choice is often not the first question when designing new packaging, but it can have a monumental impact on overall sustainability. A label can have an impact on the whole package greater than the label on its own. Also with the high volume of consumer goods sold daily, the impact of labels builds up.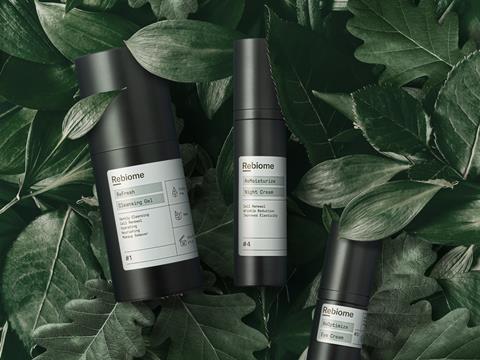 Rebiome's label by UPM Raflatac
The challenges we are facing for a sustainable future are so huge that no company or industry can solve them alone. Collaboration is hence key to accelerating technology innovations in the packaging industry and is very much supported. To make consumer packages circular, design for recycling is the first step needed, and here we see many initiatives like RecyClass and 4evergreen. Packaging sorting prior to recycling is also an area where digital watermarks in the form of Holy Grail 2.0, or artificial intelligence are piloted and it's interesting to see how these initiatives develop.
Consumer information and recyclable tubes
Silke Bochat, Head of Design, Europe Africa-Eurasia, Colgate Palmolive - Switzerland
Colgate's breakthrough toothpaste tube won the 2022 Gold Pentaward as the world's first recyclable tube recognized as recyclable. Here's a walk through the process of the initiative.
An estimated 20 billion toothpaste tubes end up in the world's landfills every year. Aluminum layers in toothpaste tubes have historically been used industry-wide yet make recycling almost impossible because most reprocessors can't work with mixed materials. We had billions of good reasons to take action and lead the way. As a global market leader in toothpaste we knew that if we succeed, the impact would be meaningful, and others will join. It took us 5 years to develop our Recyclable Tube and to begin driving change in the market. Production was among the challenges to solve. We had to crack how to design a tube that technically fit the #2 HDPE recycling stream but was soft and squeezable.
The breakthrough came when we discovered how we could layer different grades of HDPE on top of each other, which allowed us to create a tube that was more squeezable, as Greg Corra, our Worldwide Director of Global Packaging & Sustainability explained recently in a Bloomberg article. To build momentum for global change, from the start we've been sharing our learnings and technology with other tube makers and companies.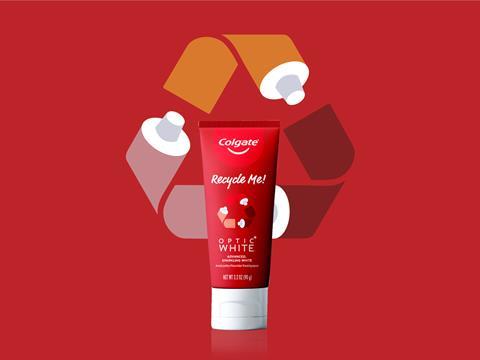 Our Recyclable Tube is just the beginning, as it is part of a broader push of our company to reimagine a healthier future for all people, their pets, and our planet. Ann Tracy, our Chief Sustainability Officer, just recently shared in an interview with Reuters that we'll soon elevate our Recyclable Tube to a new version using less plastic, which is both lighter to ship and even easier to squeeze.
Equally important as innovative technology is to engage consumers to build sustainable habits for life. How can we bring awareness to recycling, how can we educate consumers? This is when Gerard Rizzo and Kristina Karaiskos from our design team joined forces with marketing, particularly Anne-Marie Keller, our NA Marketing Associate Director. They crafted a design and communication strategy in collaboration with our design agency partner, Designbridge NY. Together, they came up with a design that turns the tube into a call to action. For a period of time, our most beloved Colgate toothpaste products were shouting out loud a "Recycle Me!" on our tube - A genius idea to build awareness among consumers and other stakeholders.
Cradle-to-cradle packaging's future solution
Uwe Melichar - Packaging Expert & Owner, MELICHAR Bros./EPDA Vice President
Our biggest challenge is to create packages composed of monomaterials that can easily be taken apart at the end of a package's life making it fully recyclable. 80% of the impact on sustainability depends on decisions at the beginning of the design process.
The right choice of material and a clever construction pays you back at the end. Michael Braungart, the cradle-to-cradle founder says, "Everything else is designed for you to throw away when you are finished with it. But where is 'away'? Of course, 'away' does not really exist. 'Away' has gone away." Reuse paired with cradle-to-cradle will play a major role in the future. Materials from renewable sources or even agricultural or food waste are on the rise.
The latest example of new packaging material that has the most potential is Traceless. It is a fantastic new material that fully biodegrades and has the same properties as molded plastic. The first application is a sock-packaging hook. Tiny little piece but super exciting. Another spectacular material is Papira. It is made from cellulose (wood) and can substitute styrofoam. There's an endless list of new developments, at the 'Rethink Material' conference in London many of the new players line up and showcase their work.
With people adopting sustainable lifestyles, consumers can learn to make more sustainable choices with the right information. Two inconvenient truths are that consumers state to have a sustainable lifestyle but if you look deeper into their behavior or check their receipts at the cash desk it's often 'greenwashing'.
Furthermore, it is really difficult for consumers to identify true sustainability. Paper is a fantastic material but depending on the use case it may not always be the perfect solution. Customers and manufacturers have to have tools for orientation and measures for their decision. SUSY (sustainable score) for example is an holistic, scientific and independent evaluation method that sums up 84 dimensions to a comprehensible result. It goes far beyond a life cycle assessment.
If you liked this article, you might also enjoy:
McDonald's Director of Sustainability in Europe on the company's approach to packaging sustainability
McKinsey on whether or not on-pack sustainability claims affect consumer spending
Perspectives from industry-leading experts on the EU's Packaging and Packaging Waste Directive revisions
A deep dive into the most important packaging sustainability trends and solutions