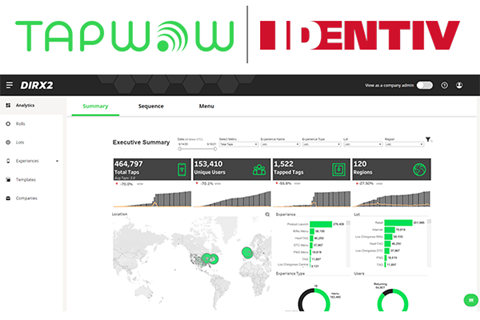 AIPIA member Tapwow, which provides cloud-based IoT software solutions, has announced a new strategic partnership with fellow member Identiv, which specializes in digital security and identification in the Internet of Things (IoT). The result, they say, is a set of comprehensive IoT solutions for smart packaging, including customer engagement, authentication, product diversion and traceability.
Tapwow's DIRX2 smart packaging and connected products platform will now enable Identiv to accelerate their tag management, content delivery and analytics solutions, says Tapwow. With support for NFC, QR codes and sensors in the same platform, brands will now have the choice of which technology is best for their particular applications. DIRX2 allows customers to batch and re-batch tags by product, region, SKU, or other criteria and change content even after tags or markers are already in market.
"We have worked with Identiv for years and have always been impressed with their best-in-class NFC and RFID products, along with their ability to provide the innovative design and technical skillset to satisfy any customer. Combining our software capabilities with their quality transponders will give our customers an upgraded solution for smart packaging and IoT," said Michael Sher, CEO of Tapwow.
Amir Khoshniyati, VP and GM IoT business at Identiv added, "Demand for IoT solutions is expected to scale exponentially in the coming years. This connected platform includes serialized IDs for every product and has a digital customer audit trail. The brand engagement and protection capabilities deliver trust and authenticity via transparency in supply chains and enable better decision-making through item-level data sourced from Identiv and the market's embedded IoT products across all prominent industries. We're excited to partner with Tapwow to provide end-to-end solutions that deliver secure, rich content across multiple touchpoints."
As part of the strategic partnership, Tapwow will be the technical solutions provider for Identiv and will work with customers to deliver pre-built, semi-custom and custom experiences for consumer engagement, authentication, traceability and reuse/recycle. With various solutions across many verticals, the companies will be an ideal combination, they believe, for brands, partners, packagers and creative agencies to deliver smart solutions to their customers.
They are now able to offer combined teams located across the world, to deliver powerful IoT and smart packaging solutions for customers of any size, quickly and cost-effectively, they claim.
This article was created in collaboration with AIPIA (the Active and Intelligent Packaging Industry Association). For a full update on active and intelligent packaging, come along to the AIPIA World Congress (co-organized by Packaging Europe) in Amsterdam on 14-15 November. The only smart packaging event covering the entire technology spectrum, the World Congress is a meeting place for the global active and intelligent packaging industry where brand owners, innovators, and other stakeholders can network and see and discuss the latest trends and innovations. Register to attend here.