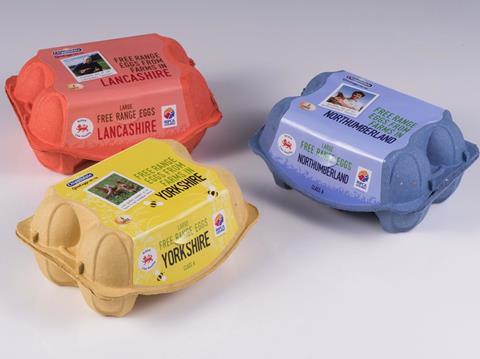 Chippindale Foods has relaunched its regional egg brands as part of plans to expand its role of promoting locally sourced produce in supermarkets in the North of England.
The new packs feature producer photographs and messaging to promote the fact that the eggs are from regional farms and are now on sale in Co-op and Morrisons stores in Yorkshire, Lancashire and Northumberland.
Managing Director Nick Chippindale said a £5m investment in new packing facilities and offices near Harrogate back in 2013 had played a crucial role in delivering more local produce to supermarket shelves, resulting in 30 per cent growth with production levels now up to 4 million eggs a week.
"As a result of that investment we have been able to provide a route to market for more regional poultry farmers across Yorkshire, Lancashire and Northumberland and have supported many others to become new free range egg producers," said Nick."The redesign of our local packs with clearer messaging about provenance and sustainability has been the latest step in supporting our farmers to sell more eggs regionally."
The past four years have not been without their challenges and Nick said innovation has been crucial in a market that has become increasingly commoditised.
"We have excellent relationships with the major supermarkets, none of which would have been possible without that decision to invest back in August 2013," said Nick.
"Having said all that, we never sit back and we have plenty of new ideas in the pipeline to support a strong local network of egg producers and a reliable supply of local free range eggs to retailers.
"Although demand for free range eggs continues to rise, they are increasingly seen as a commodity with retailers driving efficiency through the supply chain and cutting margins. Our challenge is to continually look at new ideas which differentiate our product and give our farmers a market for their eggs," Nick explained.
One such initiative is Chippindale Foods' Bee Friendly Farms project operated in partnership with the Bumblebee Conservation Trust. The scheme has led to the planting of 16 acres of bumblebee and nature friendly habitat on Chippindale's free range egg producing farms in Yorkshire. These farms now supply the entire Yorkshire egg range, which is promoted as bee friendly on packs and won a marketing award at the 2016 BFREPA egg producers' conference.
More info: