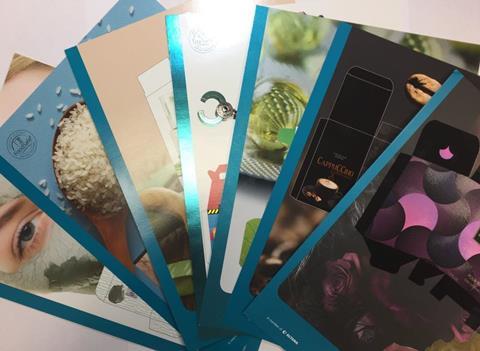 For the first time, ACTEGA presents this new evaluation and working tool for finishing combinations and their end-uses at interpack 2017 in hall 11, booth A12 from the 4th to the 10th of May.
What is the Coating Wheel©?
For packaging designers and brand owners, there are many possibilities to enhance their packaging creatively. Legal aspects often make this choice even more difficult, as for example in legally compliant food packaging printing. Thus, those responsible should be enabled to select the suitable type of finishing for their packaging solutions in an easy and straightforward way. Here - in cooperation with the agency pacproject, specialized on packaging design and consulting, as well as with the manufacturer of printing presses KBA-Sheetfed - ACTEGA coating experts have developed the 'Coating Wheel©', a variation of the 'Packaging Wheel©*' with a focus on overprint varnishes and end-uses.
The project partners invite interested visitors to try the Coating Wheel© at interpack 2017 on the booth of ACTEGA in hall 11.
The interactive exhibit links coatings and their end-uses in an easy, fast and open way. On a touchscreen, the user may choose the packaging's most important coating property – in the case of a premium folded box "Luxury Impression". Now a selection of products is shown that properly meet this feature. An intensively conducted benchmarking process makes it possible to compare all representedcoatings, also in relation to further characteristics such as the fulfilment of technical, regulatory or multisensory requirements. Lighting technology guides the way to the corresponding end-uses and printed samples with appropriate finishing combinations.
"With this tool, we would like to enable those responsible to find the right product for their application", explains Timo Kondziela, Head of Marketing at ACTEGA Terra. "Moreover, it is our target to provide an even better understanding with regard to packaging trends and printing technologies." In the Coating Wheel© included printed samples were produced at KBA-Sheetfed in Radebeul on a Rapida 105 PRO with double coating technology and cold foil equipment. "A high-class project", explains Anne-Kathrin Gerlach from KBA's product marketing. "Finishing combinations used here are very complex and demonstrate what you can achieve with coatings and innovative printing technology." As a substrate, different board qualities by Stora Enso were used, as for example Ensocoat, a high-value board type especially suitable for premium folded boxes in the area of cosmetics or chocolate.
Why the Coating Wheel©?
Packaging plays a major role in catching the attention of consumers at the point of sale. To differentiate from competition has become increasingly important. Here, the packaging fulfils more than one task. It provides a transport function and protects the filling good against outer influences. In addition, it carries information and communicates the manufacturer's brand.
Overprint varnishes make a decisive contribution to the production of modern folded boxes. Depending on the type of finishing, they create an impressive look, provide protection by means of stable technical characteristics or extend the packaging by valuable functions, such as for example the barrier effect. "The packaging industry is very complex", explains Tobias Kredel, Strategic Consultant at pacproject and developer of the original Packaging Wheel©. "Nobody can master all disciplines and know everything about new material or applicationsolutions. For this reason, an efficient knowledge transfer is very important in our industry." In the area of overprint varnishes, the Coating Wheel© provides the required knowledge transfer for a common language of all those involved.
More info: