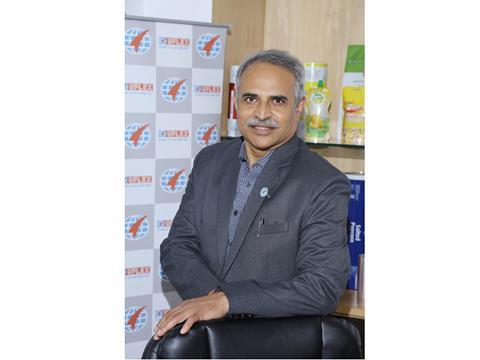 Libby Munford caught up with Jeevaraj Pillai, joint president - packaging & new product development from the UFlex headquarters in New Delhi, India, to hear how the global pandemic has affected them. UFlex Ltd. is a flexible packaging solution provider serving clients across over 140 countries worldwide.
How has corona impacted your business?
COVID-19 has brought various industries to a screeching halt and impacted the world economy substantially. But as one would agree, during any epidemic crisis the consumption levels for essential commodities such as food and medicines increases due to fear-mongering and hoarding of stocks, hence packaging that caters to these essential industries of FMCG and Pharmaceuticals doesn't suffer from a degrowth.
We are putting in enormous efforts to contribute to the fight against the current challenging situation. With our efforts, we are trying to ensure that despite multiple challenges, we continue to cater to packaging needs of essentials and that there is no shortage of packed form of products for public at large, which are essential for survival. Since Packaging is deemed as Essential Services segment, our plant is running with minimal staff strength and maximum security measures.
In the short term, the demand curve has witnessed a surge as a result of panic buying and hoarding by the masses, however with constraints being faced on the supply chain side, we are likely to get impacted in the medium to long term, both in domestic and international markets, till the pandemic gets eradicated. Also the lockdown situation in India is quite dynamic and with relaxation in rules announced by Govt of India for operations of logistics and transportation of essential goods, we are hopeful of the supply chain improving further for the Packaging industry.
Has production been affected, or do you expect it to be?
The lockdown in India was declared in just a matter of few hours.
However, since Packaging is an Essential Service segment, indispensable to FMCG and Pharmaceutical requirements, we were able to obtain necessary permissions from the local administration to resume our production process. Today, we are running our Packaging Business lines at almost 60% capacity and Packaging Films lines overseas are running on almost full capacity. However, our other business verticals like Cylinder, Engineering, and Chemical are running at very low or zero capacity.
Despite the permissions availed for our units, the biggest bottleneck, as of now, is the inconsistent supply chain and also reverse migration of many blue collared staff and labour to their native homes. Once the supply chain begins to resume normalcy and all our manpower is back at work, we can expect our production curve to pick up gradually.
Has your supply chain been impacted, or do you envisage such challenges?
Due to the lockdown, the whole ecosystem of supply chain in the industry has been disrupted. Many external partners into supply-chain service of Packaging are not running to their full potential due to lack of manpower, financial resources other on-ground challenges. This in turn is posing a dual challenge of shortage of raw materials as well as final consumables. For example, we are facing shortages of inks and adhesives that are an important fraction of the final packaging for daily essentials and pharmaceuticals, as those plants are awaiting permissions to start their operations. Likewise, certain segments of products for which we supply packaging, are not available for consumers on the retail shelves.
Have any of your employees been infected and how are they now?
At UFlex, we lay a strong emphasis on the health and safety of our workforce. In the current pandemic time, our Employee Health and Safety (EHS) team has ramped up the cleanliness and sanitization processes at all of our operating facilities with additional precautionary measures. As on date, none of our employees have been infected so far. We are taking utmost care to make sure good health of each and every person.
What measures are you taking to ensure you meet these challenges?
At UFlex, we are concerned about the health and safety of our workforce, beyond the normal advised standards. We are equally committed to this fight against this deadly virus and we are ensuring that we support the food and pharma industry with packaging supplies, at this tough time. We are operating with staff strength as per Government's advisory and that is required to run the plant.
For that, all the staff coming to the plant are being thermal screened daily. In cases of anyone showing signs of fever, cough, and cold, they are advised to stay at home. Timely sanitization measures are also being undertaken at our plant and social distancing is being maintained at the workplace as well.
For the rest of the staff not attached to production directly, we are encouraging them to work at home. Even in the last few weeks preceding lockdown, we had enforced measures related to travel restriction and frequent sanitation cycle, across all UFlex premises. In a bid to discourage gatherings, we have also suspended all training activities and are encouraging our employees to make use of virtual meetings.
How do you see coronavirus impacting more generally on packaging / FMCG, and do you have any suggestions as to how the industry can mitigate these impacts?
COVID-19 is not going to be a short story and will have a lasting impact on consumer habits, resulting in more health and hygiene mandates for the packaging industry as well. There will also be a surge in consumption of packaged food and online ordering of groceries due to safety and hygiene that packaging provides, as people will refrain from going out in the near future. Packaging for pharma products is also expected to witness a rise, as sanitizers, immunity supplements will become an essential part of consumer's life.
At the same time, changing consumer sentiment will see less spend for certain categories like high-premium goods and cosmetics, thereby reducing its packaging demand. As the supply chain smooths across India and globally, Packaging industry will need to consider shifting the categories they cater to and focus on ones that are likely to experience high volume in the short run.
Also since the duration of this crisis can't be predicted, packaging designs and substrates that address hygiene and consumer-safety concerns—like minimize the possibility of the virus's survival on the packaging surface, will see much demand. Therefore the Packaging Industry will need to gear up to ensure safe packaging.
One more key takeaway would be to de-risk the supply of raw materials by expanding ones' pool of suppliers, by quantity as well as geographically.
Are there any broader lessons about packaging that industry – or society – should draw from the pandemic?
Coronavirus is unique and every one was unprepared. It would not be incorrect to state that 'co-existence' is the biggest lesson that each one of us should learn from the current pandemic, and also that 'global problems need global solutions'.
Coming to our industry, Packaging is a core industry that literally binds the world together and has truly been a bellwether of the economy and of consumption. Among our clientele, we have leaders from sectors as disparate as pharmaceuticals, FMCG, groceries, F&B and more. Therefore, it is important to understand that packaging touches every life on this planet and hence it is not a luxury but a necessity. This is the reason that plastic which is indispensable to human existence should be sustainable as mishandling of plastic could also be detrimental in a wide magnitude.
None of us would want to face any other unknown pandemic, thus, now is the time, when each one of us should adopt sustainable practices and defer any kind of threats. Thus, society and packaging manufacturers need to work hand-in-hand to ensure that with sustainable practices and technology, we keep plastic an integral part of packaging, yet create a circular economy for its flow. This is the message that we want to share, from the exemplary handling of the COVID-19 situation, by the Packaging Industry at large.