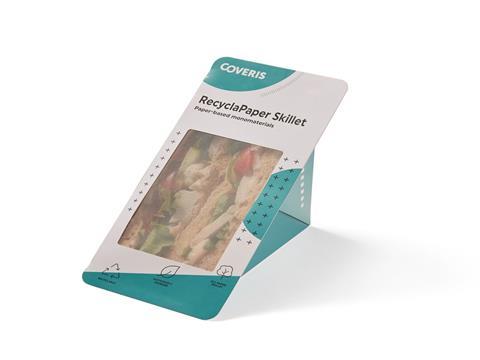 Coveris announces new innovations for its 'food-on-the-go' packaging range, with a focus on sustainable materials and ease of recyclability for consumers, which it is set to unveil as part of the lunch! Event at ExCel London.
According to Coveris, the monomaterial innovation RecyclaPaper is a paper-based, sustainably sourced, and recyclable sandwich skillet, which also features a translucent window to support consumer product visibility.
The company adds that the RecyclaPaper's window is paper-based and uses the latest paper monomaterial technology, apparently delivering the same product protection and shelf life as plastic-lined sandwich skillets.
In collaboration with iPac, Coveris says that it has developed its new icard trays for chilled and convenience foods. The icard trays are apparently designed for recyclability and premium shelf appeal.
The icard tray, it adds, combines a thin, inner rPET tray liner containing up to 100% recycled content with an outer, fully printable cartonboard tray. As the icard tray is not connected using laminates or adhesive, Coveris claims that it can be easily separated for recycling.
The company says that the icard trays are also compatible with lidding film, including MAP options for optimised product shelf life. In addition, the icard tray has been announced as a finalist in the UK Packaging Awards 2021.
Last year, Coveris revealed its RecyclaLite packaging, which featured a reduced film gauge, as well as a peel function to encourage consumers to separate film from board during the recycling process. RecyclaLite was awarded Cartonboard Pack of the Year in the UK Packaging Awards 2020.
At this year's lunch! Event, Coveris will demonstrate its expanded RecyclaLite range with wrap boxes. The packaging will use sustainably sourced board and is recyclable under OPRL 2020 and 2023 recycling rules for lined board packaging, according to the company.
Michael Conway, food-on-the-move sales director at Coveris, says: "We are delighted to see the return of lunch! and look forward to reuniting with the industry next week.
"Food-to-go is a category of dynamic innovation at Coveris, and we are excited to use lunch! as a platform to launch two new products, RecyclaPaper and icard tray.
"Aligned with Coveris' vision of No Waste, we continue to focus on sustainable packaging development, supporting our customers and the industry with responsible and forward-thinking innovation."
The lunch! Event at ExCel London will take place on Thursday 23rd and Friday 24th of September 2021.