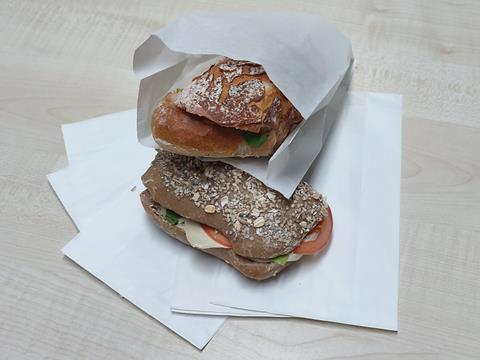 Archroma has announced that its Appretan NTR paper packaging range, supposedly made with 30% renewable raw material, is now capable of imparting barrier properties onto food packaging such as wraps for burgers or sandwiches.
The announcement comes after the company's previous advancements in paper packaging: Cartaseal VWAF, a PFC- and ammonia-free barrier for odourless paper-based food packaging, and Appretan NTR, originally designed for use in nonwoven articles such as tea bags and coffee filters. These features were combined in the new design.
As a part of Archroma's Nature Bites barrier system, the paper can reportedly be combined with the company's Cartacoat primers to provide short-contact food packaging that is both food-safe and recyclable – replacing the plastic films that traditionally line paper food packaging yet impact its recyclability and compostability.
The range hopes to maintain water, oil, and grease resistance while continuing to cut down on the industrial reliance on fossil fuels.
"Consumers are increasingly questioning how products are made, and expecting them to be harmless for themselves, their loved ones, and the planet," says Andy Bell, head of Competence Centre Paper Chemicals at Archroma. "That is why it is critical that major food and beverage brands and retailers have a close look at their packaging supplier and ensure that they work only with leaders in sustainable innovations."
This time last year, Birley Sandwiches was the first company to trial Seal Packaging's 'home compostable' and 'sustainable' takeaway food packaging range. Coveris also launched RecyclaPaper, a sustainably sourced and recyclable sandwich skillet with a paper-based translucent window.
On the fast food front, Burger King recently piloted its new range of reusable and returnable packaging for burgers, sides and drinks in collaboration with Loop.