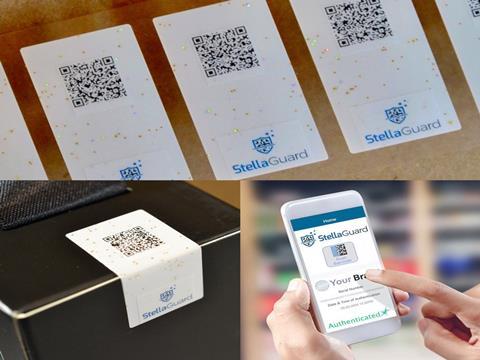 Track and trace solutions provider Covectra unveils StellaGuard 2.0, which will apparently help consumers to identify, authenticate, and track genuine products using their smartphones.
The company says that the new enhancements have been made to its original StellaGuard, a smart label and mobile product authentication solution. The StellaGuard solution provides two layers of protection to customers: a serialized QR code and 3D holographic stars in a random pattern, reportedly making the label "impossible to replicate".
Convectra claims that StellaGuard 2.0 is the "only security product with both overt and covert security combined in plain sight".
According to the company, its enhanced StellaGuard 2.0 solution can protect and prevent consumers from buying counterfeit products across industries, including clothing, cosmetics, liquor, electronics, and pharmaceuticals.
It adds that the aim of the new StellaGuard 2.0 is to identify illicit sellers, provide universal brand protection, and strengthen track and tracing capabilities throughout the supply chain.
The features of StellaGuard 2.0 include new support for Android and Apple mobile devices with a cloud-based authentication solution. Consumers will be able to scan and authenticate the barcode of a product "in seconds" using StellaGuard's free mobile app.
StellaGuard 2.0 also reportedly incorporates more random holographic flecks, which combine with a serialized QR code that is unique to every label. The StellaGuard app reads the QR code, comparing it to the random fleck pattern and count, and then indicates either Authentic or Counterfeit to the user.
Covectra's StellaGuard 2.0 appears to be part of a wider trend of innovations in packaging security aimed at empowering consumers to verify products before purchasing while offering enhanced protection against ongoing counterfeiting challenges, such as the e-commerce boom.
This month, Fraunhofer IAP unveiled its Smart ID technology, which can be printed onto products to allow consumers to verify products without database matching. This apparently means consumers can authenticate products even with a device that is offline.
Additionally, earlier this year, Avery Dennison announced a partnership with SUKU and EM Microelectronic to provide a combined blockchain platform and RFID traceability solution for everyday healthcare and pharmaceutical products.