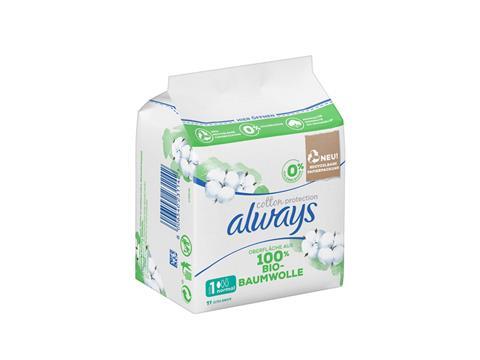 Procter and Gamble has announced that paper-based, FSC-certified, recyclable packaging for its Always Cotton Protection Pad Range has now been rolled out across Europe.
The packs are now available in France, Belgium, Netherlands, Germany, Switzerland, Austria, the UK, Ireland, Sweden, Norway, Finland and Denmark – and were launched in Spain and Portugal last week.
The solution is made from what P&G describes as "sustainably sourced", FSC-certified kraft paper which can be fully recycled in the paper waste stream. According to a recent ISO Life Cycle Assessment, the new Always Cotton Protection paper packaging reduces greenhouse gas emissions by more than 60% compared to virgin fossil plastic bags across Europe.
The paper packaging, made as part of an entirely European supply chain, is also reportedly lighter compared to cardboard. The production site, a paper mill in Northern Europe, operates using 100% renewable electricity.
Zooming out, this launch comes as part of P&G's commitment to using 100% recyclable packaging and incorporating 50% renewable or recycled materials by 2025.
The Always Cotton Protection Pads enclosed within the pack feature a topsheet made with 100% organic cotton certified by Cotton Inc. The absorbent cellulose core boasts liquid-locking gel pearls, and the pads have a moisture-proof backsheet. The pads have also been approved by the Skin Health Alliance.
The packaging innovation initially launched as part of a pilot project with German retailer, ROSSMAN in 2021 and has since gone on to win two packaging awards at the 2021 German Packaging Awards and the 2022 World Star Global Packaging Awards.
Dr. Peter Kramkowski, P&G's feminine care research & development packaging director, commented: "Always Cotton Protection paper packaging is the brand's first-ever fully recyclable paper packaging that is lightweight, robust and easily recycled in the European paper waste stream.
"Manufactured within a completely European supply chain, the package delivers responsible sourcing, manufacturing, and disposal, all without compromising on performance or protection."