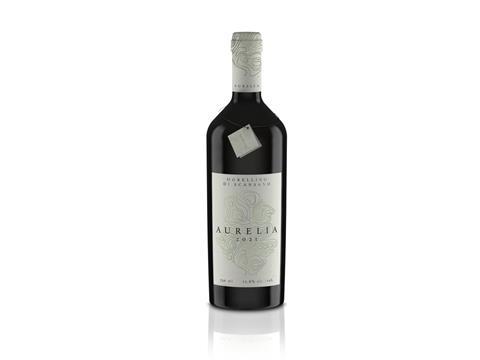 Berlin Packaging's Aurelia is a carbon neutral wine bottle produced using renewable energy sources, with an offsetting programme for the remaining CO2 emissions. We caught up with the company about being shortlisted in the 'Climate' category of our 2022 Sustainability Awards.
You're a finalist in the Sustainability Awards 2022. Congratulations! To start off, could you summarise your entry in fewer than 50 words?
Designed in-house by Berlin Packaging, Aurelia is the 100% Carbon Neutral Bottle from the Itinera collection created for wineries engaged on sustainability: it is produced in a furnace powered by renewable resources and any additional CO2 generated in production is offset in partnership with Climate Partner.
Why do you think the judges were impressed with your entry? Tell us about what is innovative about your project and/or about its impact on packaging sustainability.
We see Aurelia's success at Sustainability awards as a result that this bottle is in-line with current market trends and it satisfies our clients' needs in terms of design, product quality and sustainability. The "100% Carbon Neutral" production of Aurelia is achieved by using electricity from renewable sources, biomethane and a programme dedicated to offsetting residual CO₂ emissions.
We also considered holistically additional sustainability impacts like materials and design. Aurelia is available in both ancient green and emerald green, in order to maximize the recycled glass content and create the perfect vessel for organic wine growing.
How has your innovation/initiative been received thus far?
Today's consumers and our customers are enquiring about more sustainable products, and we are committed to meeting their needs and responding to new market trends with innovative solutions. Our company invests between 3% and 5% of revenue in EMEA R&D, models and patents, and intellectual property, resulting in more than 1000 moulds.
We launched the Itinera collection of wine bottles in September 2021. Back then, we were still in the middle of the pandemic. Nevertheless, our goal has always been to never stop working on innovation. Now, a few months later, the numbers are proving us right.
You're shortlisted for the Climate category. What do you see as the key demands, challenges and opportunities in relation to climate protection in packaging?
Minimizing our environmental impact and offering sustainability-focused products and services to our clients across all end-use markets and geographies is one of our key sustainability priorities. Climate change is a challenge that we need to face with urgency. In this context, businesses can play a crucial role in mitigating the impact on the environment for present and future generations.
Berlin Packaging has defined a dedicated sustainability Plan that works on two fronts as far the preservation of the environment is concerned: on the one hand, the Group aims to improve its direct performances, working for instance on its logistics plan and buildings; on the other hand, providing its customers new and more sustainable solutions that can support them in achieving their sustainability targets as well. 100% Carbon Neutral Aurelia is an example of our commitment to it.
The winners of this Sustainability Awards category will be announced at a dinner taking place at the Sustainable Packaging Summit in Lisbon on 13th-14th September 2022. To attend the ceremony, register here.