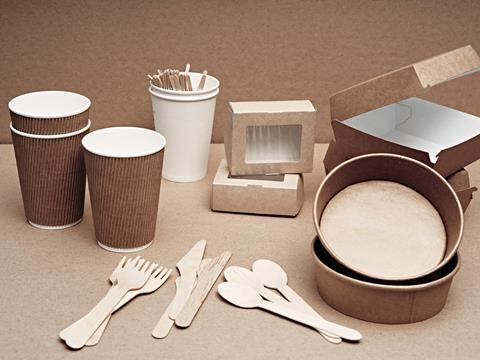 First the pandemic, now the war in Ukraine with rising inflation and fuel costs, and all the while pressure to move away from plastic. Amidst such turmoil, what does the future hold for the growth of paper packaging?
Neil Osment, managing director of paper packaging industry analyst NOA, talks to Packaging Europe about his predictions.
Demand for paper-based packaging – both corrugated and folding cartons – has been on the up across Europe for at least the last two years.
But, if you look at recent figures, you could be forgiven for thinking something has gone wrong. In the first three months of 2022, demand for corrugated slipped back across Europe, and all the growth that occurred in 2021 has now fallen away. We were at +7% for corrugated in the UK in 2021 and we're now at -8% (and figures for Europe are similar).
So, what has caused this drop-off?
One factor is the destocking of finished boxes and cartons, as well as of board. Because there had been such a shortage of product (remember all the news stories about supply chain issues, scarcity of packaging and shortage of lorry drivers?) - and fearful of getting caught out again - packaging businesses, brand owners, and end-users had all been over-ordering in 2021. For the first three or four months of 2022, they've been using that stock. Packaging firms supplying FMCG producers, in particular, have been carrying higher than normal levels of stock, because their customers have had such a high demand for product.
Consumption of corrugated, and to a lesser extent cartons, had started to slow in the second half of 2021, because we were no longer working from home, kicking our heels and ordering products online.
Also, after June of 2021, we could once again spend our money on eating out and having holidays, so we have diverted our spending towards events, experiences and getting away from it all rather than ordering tangible products online. Anyone trying to book a coastal rental property for a holiday last year will remember they were hard to come by – and we're talking all across Europe, as well as in the UK.
In the first half of 2021, growth of paper packaging products was around +10%, but in the back half of the year it slowed down to +2% - a good growth rate for paper packaging, but more modest.
This year, in 2022 the trend to spend more of our spare income on holidays has continued. We can now go abroad, and all across Europe – as we have seen – the airports and ports are heaving, as people scramble to get away and we've not even hit peak season yet. It seems we'd rather go to visit the real Amazon, than shop on Amazon! In fact, sales figures for Amazon are down by 15% in 2022 versus last year - a huge indicator of people's mindset.
Along with all of the above, you need to factor in the rising cost of energy across Europe, plus inflation, which is making us tighten our belts. We simply aren't spending in the way we did during the early days of the pandemic. Indeed, at NOA we believe the impact of reduced consumer spending has yet to be fully felt across all sectors, including paper packaging. It is going to start to bite very soon.
But before we get too gloomy, let's remember that 2021 was an exceptional year for the growth of most sectors in the paper packaging industry. Things have cooled, but that doesn't mean they have gone backward. Demand for corrugated is still up 2-3% versus 2020 – that is nice, steady growth.
The trajectory is still going up, thanks to a combination of natural growth and an overall increase in packaging being used to promote as well as distribute product; there has been a boom in the use of shelf-ready packaging, especially in the budget stores like Lidl and Aldi, which are taking ever-larger chunks of the national supermarket spend.
And there is a third factor: the green wave. The innovations in paper packaging are remarkable – cardboard sleeves for multi-pack soup or baked bean cans, paper-based trays for tomatoes and a very recent innovation from Smurfit Kappa: a paper-based, childproof detergent box. What else is coming on? We watch this space with interest.
Cartons have a longer lag time than corrugated, which is much quicker to react to market forces. In the carton industry, like a supertanker, it may not act as quickly or as sensitively, but we predict it will follow the same path as corrugated. Currently, in 2022, the market for folding cartons is as buoyant as it was two years ago.
This is due to a number of factors. First, a high percentage goes into the food and drinks market; second, a lot more stock is held in the supply chain, which has yet to work its way through; and third, there isn't much spare mill capacity for the board needed to make cartons, which keeps demand high. Cartons are growing at +4-5% currently and the green wave is having a very positive impact on the demand for cartons, so, again, watch this space.
So, what has been happening globally? The Far East has experienced high demand, but this has cooled recently, not least because of the impact of Covid on China; estimates have it that more than 100 million people are still self-isolating at home (and not available to work). Other parts of the Far East may experience the same. America has been fairing slightly better than Europe in terms of growth in 2020/22, and Africa and South America have tended to mirror Europe.
And where are we now?
Short-term, the impact of the Ukraine war on the markets is likely to cause a large amount of disruption in the system, as producers look to alternative sources for energy and minerals, rather than relying on Russia. Starch from wheat in Ukraine and Russia is used in the corrugated process, so this will have an impact on production while alternatives are sought, from locations such as the US and Africa. Russia is a big supplier of wood, used for pallets and pulp for paper, to Scandinavian papermills. Again, alternative sources will need to be secured, and once again the US is a likely option.
And what next?
For the rest of 2022, we predict the -8% for corrugated in 2022 year-to-date will improve because consumption will right itself, as the overstocking issue eases. By the end of the year, we're likely to be at -2 to -4% or, at best, break even. But it is important to remember that this still represents overall growth from 2019/20.
Moving forward, in 2023 the necessary realignment of supply triggered by the war against Ukraine will still be felt. However, by 2024, the markets should have stabilised, and we predict seeing steady, but more modest, growth for paper packaging of between 2% to 2.5% for the next few years. This will be due to natural growth and the green wave.
It's true, the Ukraine conflict is hitting the momentum of the green wave – Iceland stores, for example, has admitted it won't be able to meet its pledge of being plastic-free for its own-label products by 2023 – but the environmental pressure is still there, and growing.
And there is one other factor to consider. The supply chain has shown itself to be of huge significance, and reliance on China for the supply of goods has an impact on the western world. We predict we will see a gradual shift in the offshoring supply of our goods away from China and back towards other western nations like America, plus India and Africa, and, of course, to Europe too.