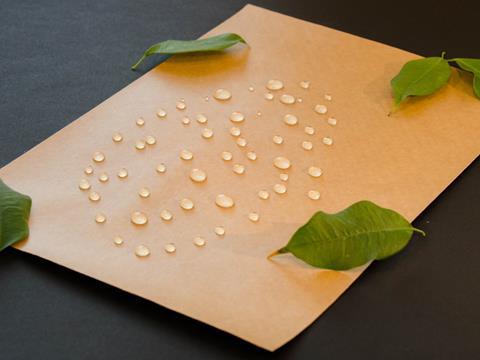 Smurfit Kappa recently launched AquaStop – a water-resistant paper with a coating that reportedly does not interfere with recyclability. To help our readers learn more about this solution, we spoke with Lars Henricksson, VP of product development at Smurfit Kappa Paper Division.
First things first, for our readers who might have missed the initial news, please could you introduce this innovation?
Last month, we launched AquaStop – an innovative and sustainable water-resistant paper packaging solution. This is part of our new TechniPaper portfolio, which consists of an array of high-performance papers designed for handling the variety of requirements that are faced in complex supply chains.
What makes AquaStop unique is the ability it gives to make packaging solutions that resist exposure to water at the same time as being fully recyclable in standard recycling mills. Throughout the production process of the AquaStop paper, a special coating is added which in turn creates a water-resistant capability. The special coating is an important part of the manufacturing process, and unlike many other coatings, the product can be recycled in the same way as standard paper-based packaging.
AquaStop was developed to expand Smurfit Kappa's Better Planet Packaging portfolio of solutions that are designed for a more sustainable future – a future, where packaging works in harmony with nature, delivering products, but leaving behind no trace on the planet.
How can the innovation be applied – could you give us some examples of potential uses and explain why the solution is suitable in these contexts?
AquaStop enables fit-for-purpose packaging solutions, offering a sustainable alternative to materials such as single-use plastics. It is an ideal solution for businesses that transport goods in more demanding environments, such as overseas.
Protection from water makes AquaStop particularly suitable for use in conditions where the box is temporarily exposed to direct water contact, making it an excellent solution for the transport and storage of products that are exposed to condensation.
Regardless of what products a business sells, AquaStop provides a significant level of versatility for packaging solutions. It can benefit a wide range of businesses from someone selling flowers online, to packaging detergent for sale on supermarket shelves or even for wholesalers who are transporting fresh produce.
In terms of functionality, how does the solution compare with existing alternatives?
Our product development team has been working dedicated to develop something that offers both the required functionality and at the same time is 100% recyclable in standard recycling mills. This has given a unique combination of functionality and sustainability credentials. The focus is on designing the optimal packaging where AquaStop can replace today's 100% plastic solutions or replace laminated products which requires special recycling technologies.
As with all our packaging solutions that are part of our Better Planet Packaging portfolio, the customer experience is at the core of what we deliver.
And in terms of sustainability, how does AquaStop compare with solutions that are already on the market? Have any LCAs been undertaken to back this up?
There are several aspects that we look at when speaking about sustainability. We always want to emphasise that for packaging the first and foremost sustainability aspect is fit-for-purpose, so the material used for a packaging solution needs to be suitable for its use, and with a 3-15% share in the packaged good's environmental footprint, this cannot be emphasised enough.
In Europe, society is currently focused on tackling the end-of-life challenge of packaging materials in general. Not only is this a question of resource efficiency and impact on climate change, but in recent years we have grown to understand the impact of litter on land and in the oceans. Our focus on the development of AquaStop has been on finding a new solution that offers the same product qualities as older water-resistant packaging materials, but that can be easily recycled within efficient, existing recycling infrastructure and in an energy-efficient manner.
LCA studies in packaging materials show that the recyclability and therefore the end-of-life impact of packaging materials is one of the key contributors to the life cycle assessment results, especially the climate impact. All sustainability impacts however cannot be measured through an LCA and in the case of AquaStop, we look at how simple it is for it to be recycled: i.e. can the material be placed in the regular paper recycling system, which plays a role in avoiding litter, and does it have the characteristics to be repulped in the same manner as any paper.
This saves energy in comparison to heavily coated, laminated or composite materials. We are also able to maintain the fibre recycling yield that would be lost in some alternative materials. LCA also cannot measure the litter impact or the sustainable origin of renewable raw materials which are strong with AquaStop which is produced from Chain of Custody (CoC) certified fibres and delivered with full FSC CoC.
With this, we believe that AquaStop is an excellent alternative solution to the changing sustainable packaging environment promoted through the EU Green Deal.
How can the material be disposed of at end-of-life? Does the coating affect recyclability in any way?
Our ambition was to find a solution that can be regarded as a paper product and be placed in the highly efficient and well-established paper recycling system. Paper packaging is the leading packaging material with regard to its recovery and recycling rates (for corrugates 92% and 84% respectively) and AquaStop can be recycled in this system. Unlike many traditional materials which are based on laminates, coatings, composites or mixed materials, AquaStop avoids the end-of-life traps of these materials. This leads to reduced end-of-life impacts in the full packaging value chain.