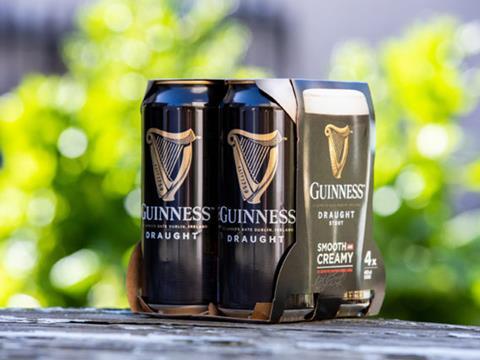 FMCG brands are increasingly ditching plastic multipack wrapping in favour of paper-based alternatives. But, according to Lindum Packaging, this is resulting in high levels of product damage and food waste. Rick Sellers tells us more.
Sometimes the solution to a problem is worse than the problem itself. It's the law of unintended consequences: and it's more common than you think.
The quest for ever more eco-friendly packaging is a great example. Spurred on by consumer concerns about turtles tangled in plastic, courtesy of Sir David Attenborough's Blue Planet II, many brands and retailers have tried to rid themselves of plastic packaging. The introduction of plastic packaging taxes has only increased the pressure to cut plastic.
One industry that has moved away from plastic at pace is the beverage industry. In 2019 drinks giant Diageo announced it was reducing the amount of plastic used in its beer packaging and replacing it with cardboard. The company said it would remove the plastic ring carriers and shrink wrap from its multipacks of Guinness, Harp and Smithwick's.
In January this year Mexican brewer Grupo Modelo said it is investing millions of dollars to move from plastic rings for its multi-packs of canned beers to fibre-based secondary packaging.
Many other brewers have done the same and happily received the consumer plaudits for their eco-friendly initiatives.
However, it's not that simple. At Lindum Packaging our pallet stability experts have been working with one major brewery which has experienced significant movement in transport issues (MIT) with its pallets since the move away from plastic.
This has resulted in many pallets of beer arriving damaged and being rejected by customers. The damaged packs can't be resold, so they have to be thrown away. Throwing away large amounts of beer is not simply a financial loss: it creates food waste which is a major contributor to carbon emissions.
What's more all the carbon embedded in making the cardboard wraps and aluminium cans as well as transporting them to the customer is also wasted. This far outweighs the carbon that's been saved by moving away from plastic packaging.
When you add to this that the brewer had also invested hundreds of thousands of pounds converting their packaging lines away from plastic, the overall cost to the businesses was huge. Converting back to plastic would have resulted in even more cost.
To solve the problem our pallet stability specialists have been using Lindum's Mobile Pallet Stability Test Lab to identify what was causing the problem.
Developed by Lindum Packaging, the test lab is the UK's first on-site real-time pallet stability testing facility. Until its launch in 2021, companies had to conduct inconclusive transit trials, often at test facilities in Europe, at a cost of up to €8,000 per test.
The key issues we identified were that:
The cardboard sleeve packs used are more likely to experience MIT than plastic rings which provide greater stability
When loaded onto a pallet printed cardboard wraps and cartons slide against each other often due to the shiny print surface
The effects of changing from plastic to paper on the overall packaging system hadn't been considered, especially in the area of pallet wrapping.
The Lindum team conducted over 100 EUMOS tests (the European Safe Logistics Association) on 100 plus pallets of product. As a result of combining different stacking options, various wrap patterns and alternative stretch films, they have made major improvements.
One of the key problems identified was that the pallet wrapping machines at the end of each line were not properly calibrated and were using the wrong stretch wrap. Plus, regular maintenance had been overlooked adding to stability problems.
Correcting these problems and using a much stiffer plastic stretch wrap has reduced MIT issues by 86% delivering major savings to the company.
Whilst it may seem ironic to be using plastic stretch wrap to reduce stability issues caused by a move to plastic-free packaging, the lesson should not be lost on any brewer looking to make a similar move.
The root cause of most of the MIT issues could have been avoided with proper testing when the decision to move away from plastic was made. But that's the thing about the law of unintended consequences, you don't know what you don't know, until you see the effects of a decision.